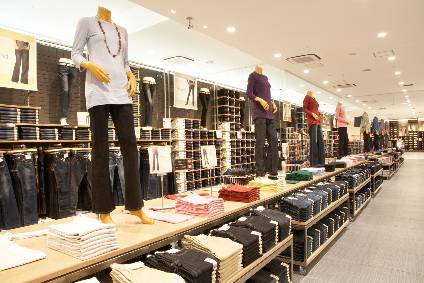 Uniqlo-owner Fast Retailing has said that by 2020, all the jeans made and sold by the group will be produced using a washing process that cuts water use by 99%.
The technology was developed at the FR Jeans Innovation Center, the group's facility for jeans research and development in Los Angeles, California.
It combines advanced washing equipment "utilising nanobubbles and ozone with the skills of jeans designers" to reduce the amount of water in the washing process compared to conventional production methods, the company says.
So far Uniqlo has reduced the amount of water used in the washing process of its Men's Regular Fit Jeans by up to 99%, with an average of more than 90%.
In 2019 a total of 10m pairs of jeans – almost one-third of FR's annual production quantity – will be manufactured with this new process, rising to 40m pairs of jeans in 2020, saving around 3.7bn litres of water.
In addition, the pumice typically used in the washing process has been replaced with an artificial stone that can be used semi-permanently, helping to reduce water pollution.
Lasers have also been introduced to replace the labour-intensive scraping process that has traditionally been done by hand — easing the pressure on workers, the group says.
"We believe that jeans manufactured not only with a focus on design and comfort but under conditions that are environmentally friendly and protect the rights of the workers involved in the production process, are truly good products and that pursuing such jeans production will lead to a brighter future," says Msaaki Matsubara, director of the Jeans Innovation Center.
"We will utilise the technical capabilities and economies of scale of the Fast Retailing Group to contribute to the realisation of a sustainable society."