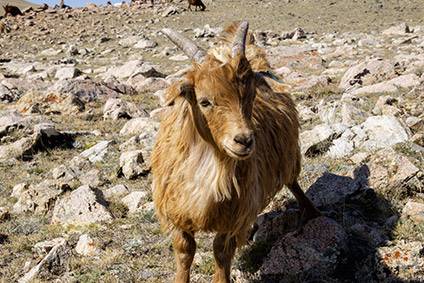 The first cashmere farmers in Inner Mongolia have been certified according to the requirements set by the non-profit Aid by Trade Foundation (AbTF).
The body has issued its first certificates for sustainable cashmere production following the successful verification of farmers and cashmere producers by an independent verification body.
The move follows the launch of The Good Cashmere Standard (GCS), which governs sustainable cashmere. Eight cashmere suppliers with 4,000 farms and around 1.3m cashmere goats participated in the verification process, including the Erdos Cashmere Group, one of the largest producers of cashmere and based in Inner Mongolia.
Introduced in January, the Good Cashmere Standard lays the groundwork for improving the welfare of cashmere goats while incorporating social and environmental standards in cashmere production. The Standard covers both the welfare of animals, the protection of nature, and the working conditions of farmers and farmworkers. It was developed in collaboration with animal-rights specialists and independent cashmere-production experts.
A certificate can only be issued upon verification by independent auditing company Elevate. Before verification, each farm is required to complete a self-assessment encompassing more than 50 points. In addition, farmers and cashmere producers must meet social, environmental, and animal welfare criteria. They are also subject to certain exclusion criteria. If this process is completed successfully, the producers receive a certificate that is reviewed on an annual basis and reissued only if they pass the verification process again. The certificate authorises them to label the cashmere produced by the verified farms with the seal of The Good Cashmere Standard.
"We can now provide the textile industry with 500 tonnes of certified cashmere wool, thereby making our first important contribution to improving sustainability in the cashmere industry," says AbTF executive director Tina Stridde.
AbTF is now developing training material for farmers and producers, taking into consideration the results of the self-assessments and verifications.
"We can build on our years of experience with Cotton made in Africa. We know that training material is necessary for the successful and sustainable implementation of a standard," Stridde adds.
"Overall, the verifications painted a positive picture of the situation on the ground, but some areas still require improvement, for example, the goat shelters or the continuous record-keeping of farm activities. We are working with our partners and animal-welfare experts to develop training material and to find out what else will help the farmers to implement the criteria of The Good Cashmere Standard even better."
GCS licensees already include fashion brands including Peter Hahn, Bestseller, H&M Group, Hugo Boss, J.Crew, Lacoste, Madewell, Miles, and Wünsche Group.