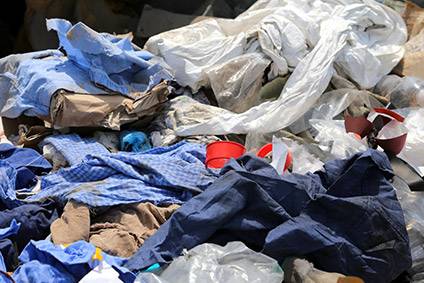 France will ban clothing brands and retailers from destroying unsold and returned items under new legislation passed by the government last week.
The 'Loi Anti Gaspillage' also covers electrical items, hygiene products, and cosmetics, which must now be reused, redistributed or recycled. The bill contains 130 articles and was adopted on 21 January when it was passed by the Senate and the National Assembly.
The new law also requires products to carry information about their ease of repair and whether the materials they are made from contain endocrine disruptors – which means producers are likely to bear part of the responsibility.
Proposed in June last year, the law forms part of the circular economy law France has set out. Its aims are a 30% reduction in resource consumption in relation to GDP between 2010 and 2030; a 50% reduction in the amount of non-hazardous waste landfilled by 2025, compared to 2010′ aim towards 100% of plastics recycled by 2025; reduce greenhouse gas emissions: avoid the emission of 8m additional tonnes of CO2 each year thanks to plastic recycling; create up to 300,000 additional jobs, including in new professions.
Reports citing Prime Minister Edouard Philippe's office, suggest more than EUR650m (US$719.2m) worth of new consumer products are destroyed or disposed of in France each year – with hygiene, beauty, kitchenware and apparel the sectors where the most products are destroyed.
Currently, under French law, producers and retailers of food are forbidden to destroy unsold goods, instead, they are required to donate it to charities.
A previously issued statement from the government suggested France is the first in the world to adopt a policy to fight the disposal of unsold goods.
According to analysts at Moody's Investors Service, the aim of the new legislation is to stop waste, come up with new more efficient production methods, conserve resources, encourage people to use products for longer and make goods easier to repair and reuse.
But they note a ban on the destruction of unsold products "is credit negative for apparel retailers in particular because they renew their products more frequently and often have surplus unsold stock."
They also note that apparel and footwear companies that derive most of their revenues in France will be the most exposed to this new law. Also, while some luxury and affordable luxury companies destroy products to maintain brand exclusivity, finding an alternative use for surplus products will not have much impact on margins because these companies are well diversified outside France.