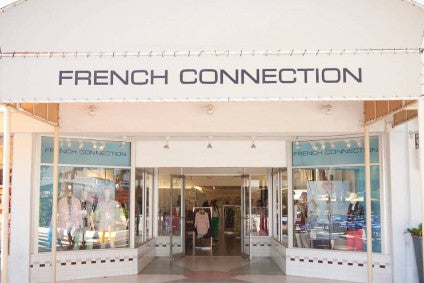 UK-based retailer French Connection has warned today (19 May) it is likely to run out of cash if it fails to secure funding to support the business.
It has taken several steps to conserve cash and reduce costs given the "significant reduction in sales" together with delayed payments from its wholesale customers, it said, "particularly in the USA".
The company added it is in ongoing and "generally constructive discussions" with many of its key stakeholders including all suppliers to confirm extending payment terms and discounts; landlords with a view to agreeing rent holidays or deferred payments; factories to manage the supply of future goods to match current requirements while reducing; quantities to reflect the expected lower level of trade for the remainder of the year; and rescheduling payments to HMRC.
While it has applied for government support initiatives, it said access to funds has proved challenging due to "tight qualification constraints". To date, it has been unable to access funding through these schemes.
The group said in light of its current cash position and the continued expected weak trading environment, it has been in active discussions with a number of potential funding partners.
"The board is confident of raising sufficient funds to support the business until the return of trading levels that are able to support the ongoing operations. This process is proceeding well and we are making good progress on due diligence and agreeing terms. Without securing additional funding and should the current Covid impacted trading levels continue, the company's cash resources will eventually be eroded in the coming months."
A number of UK clothing retailers have collapsed into administration in recent weeks including Debenhams, Oasis and Warehouse and Laura Ashley, with financial situations worsening due to the coronavirus pandemic forcing store closures.
Commenting on French Connection's warning, Sofie Willmott, lead retail analyst at GlobalData, notes the business was struggling before the Covid-19 pandemic hit, but with the outbreak significantly impacting demand for apparel and accelerating changes in consumer shopping habits the outlook is now even more bleak.
"Although it has seen UK and US online sales climb 44% in the past six weeks this will not be enough to make up for stores being closed, with the online channel only accounting for around a quarter of revenue prior to Covid-19. In addition, FY2019/20 online revenue fell 8.1% (to end January 2020) highlighting that its strong digital performance is coming from a low base and is not as impressive as it first appears."
She adds: "French Connection's brand desirability has continued to dwindle as designs lack originality, and therefore struggle to excite shoppers or justify premium price points. With its close competitor Reiss far outperforming (pre-Covid-19) and French Connection failing to find a buyer, after being for sale for a significant period of time, it raises the question once again whether French Connection can rebuild relevance as it will fail in the post-Covid-19 market if product, pricing and branding remain unchanged."