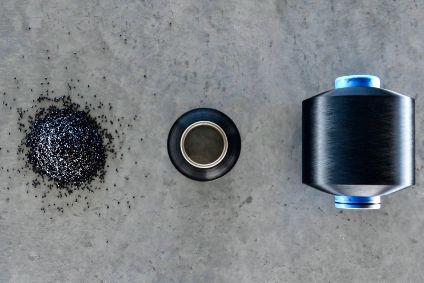 Italian yarn maker Fulgar has launched a "pure black" version of its Q-Nova polyamide that can be used to create black fabrics without the need for additional black dye.
Q-Nova Pure Black features a black pigment melted into the core of the yarn, binding permanently to the polyamide, which is made from a mix of virgin and recycled materials.
This enables the creation of black fabrics with a single-colour intensity and solidity that meet Oeko-Tex requirements and do not fade even after frequent washing, the company says.
It can also be combined with the Lycra Blackorigin elastomer for stretch without the elastomer's "glitter effect" being visible.
The advantages of the black yarn include "simplification of the dyeing process and the total absence of additional black dye with a resulting reduction in water use, energy consumption and waste, as well as total safety for the final consumer," Fulgar explains. The new formula also reduces waste.
It has also obtained the Global Recycled Standard (GRS 2015-005 certified by ICEA). Fulgar uses the Product Environmental Footprint (PEF) analytical methodology from the European Commission's Joint Research Center (JRC) to measure its environmental impact.
The company launched its Q-Nova yarn six years ago, using regenerated raw materials through a mechanical, non-chemical process that reduces CO2 emissions and water consumption in the production cycle.
Fulgar is also the exclusive distributor in Europe and Turkey of the Lycra Fibre, Lycra T400 and Elaspan Fibre brands.