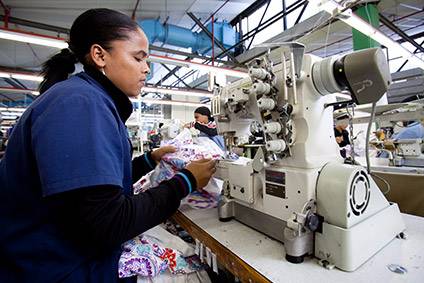 80,000 clothing and textile workers in South Africa are set to receive full pay for the next six weeks as part of a landmark package agreed as the country goes into lockdown to try to limit the spread of coronavirus.
The Covid-19 Lockdown Collective Agreement is described as "groundbreaking" by the Southern African Clothing & Textile Workers' Union (SACTWU), which brokered the deal along with the Apparel & Textile Association of South Africa (ATASA) and the South African Apparel Association (SAAA).
It was gazetted and extended to all manufacturers in the clothing manufacturing industry in South Africa by the Minister of Employment & Labour – which means it was made into law and now applies to all companies in the sector whether or not they are represented at the bargaining council.
In practice it means there is now a lifeline available for all clothing workers since their employers are able to use the institution of the bargaining council to access wage support over a lockdown period, ensuring they "are not left destitute with no income."
"In simple terms, this now means that the agreement is law for all clothing employers and employees operating in the clothing manufacturing industry in the whole of South Africa," says Marthie Raphael, chair of the National Bargaining Council for the Clothing Manufacturing Industry. "It is the first such law ever, in the history of our country."
Payment to workers will be made up from a combination of worker Unemployment Insurance Fund (UIF) monies and employer funds, and will be distributed via company payroll systems.
According to details of the agreement, the UIF and companies will take turns to pay workers their weekly salaries during the lockdown. The regulations state the money must only be used for worker payments.
A 'Clothing Industry Covid-19 Lockdown Rapid Response Task Team' has also been set up to manage immediate practical implementation issues arising from the agreement.
A similar arrangement has been agreed for the National Textile Bargaining Council, which represents companies producing upstream fabrics and yarns.
SACTWU estimates it has achieved full wage protection coverage for about 79% of all its members, for this current lockdown period.
However, "talks to conclude a similar agreement under the auspices of the leather bargaining council collapsed on Wednesday afternoon, because footwear and leather employers were not prepared to make a cash contribution to their workers' lost wages during this period of national crisis," explains André Kriel, SACTWU general secretary.
"Instead, footwear and leather employers have proposed that the burden must be further carried by workers, by reducing their annual leave and public holiday payment entitlements, or cajoling workers into such arrangements at plant level."
The measures come as South Africa went into a strict 21-day coronavirus lockdown from midnight on Thursday (26 March). The country has 709 confirmed cases of the virus cases – the most in Africa according to the World Health Organization (WHO) – and has just confirmed its first two deaths. The government has shut all non-essential businesses, including clothing and textile factories, and people are being confined to their homes except under strictly controlled circumstances.
Health Minister Zweli Mkhize said he believes it may be at least two weeks before the lockdown affects the rise in cases.
While the lockdown is set to last for three weeks, the clothing and textile workers' pay agreement makes provision for a six-week lockdown. If the lockdown extends beyond a six week period, signatories have agreed to "constructively continue to explore income support for employees."
"We are conscious that it might not be a perfect agreement, but are determined to give it our best shot," Raphael adds. "We hope [this] is a pioneering centralised bargaining agreement that will be a small contribution to our country's national effort to decisively defeat the spread of Covid-19."