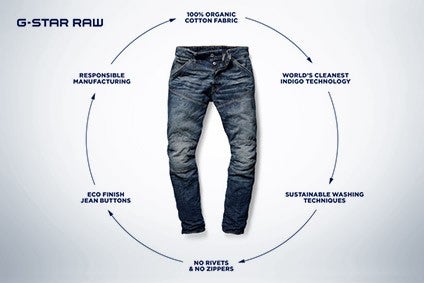 In what it claims is a milestone in responsible denim manufacturing, denim giant G-Star Raw has developed its most sustainable jean to date, made from the first ever Cradle to Cradle (C2C) Gold level certified denim.
C2C Certified products are evaluated and optimised for human and environmental health, recyclability or composability, renewable energy use, carbon management, water stewardship and social fairness, with the materials used designed to stay in a perpetual cycle of use and reuse.
There are five certification levels in the C2C Certified Program: basic, bronze, silver, gold and platinum. G-Star's achievement marks the fashion industry's first Gold level certification for denim.
In order to create the new Elwood RFTPi jean, G-Star partnered with its suppliers Singapore-based dye manufacturer Dystar and Pakistan weaver Artistic Milliners, and long-standing partner Saitex, the benchmark garment factory and laundry of the future, to analyse each part of the denim design process, exploring how to reduce the environmental impact at every step.
Its work has led to a denim fabric that is made from 100% organic cotton, grown without any synthetic fertilisers or toxic pesticides and an indigo dyeing process that G-Star says is the cleanest in the world. Developed in partnership with DyStar and Artistic Milliners, the new Crystal Clear process was formulated using 70% less chemicals, no salts and producing no salt by-product during the reduction and dyeing process, consequently saving water and leaving clean and recyclable water effluent.
In addition, G-Star worked with Saitex to make and wash the garments. By employing sustainable technologies, good chemistry and renewable energies, 98% of the water will be recycled and re-used and the other 2% will be evaporated, leaving no water to be wasted or discharged into the local environment.
The company also ensured all components not conducive to easy recycling were removed, including all rivets and zippers, and instead opted to use eco-finished metal buttons. In addition, all labelling and carton packaging is responsibly sourced.
As part of its bid to further sustainable innovation in the denim industry, G-Star and its mill partner created an open-source access to their most sustainable denim fabric development processes, which now can be accessed through the Cradle to Cradle Products Innovation Institute's Fashion Positive Materials Library.
"Almost everyone has a pair of jeans in their closet. As a key player in this market, G-Star Raw takes responsibility to lead by example in promoting sustainable denim innovation," says Frouke Bruinsma, corporate responsibility director of G-Star Raw. "Our new denim fabric and its revolutionary indigo process will become an open source for the rest of the industry to use. We would like to invite others to join us towards cleaner and more ethical denim production globally."
The G-Star Elwood RFTPi jean, together with its counterpart the D-Staq RFTPi denim jacket, will be available in stores and online from 15 February for both men and women.