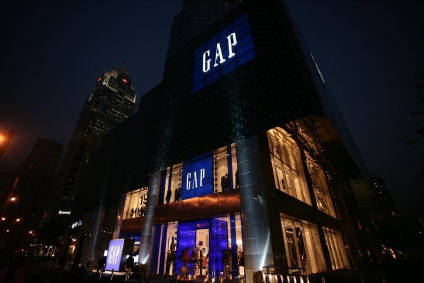 US specialty apparel retailer Gap Inc has named its Old Navy boss, Sonia Syngal, as the company's next CEO.
Syngal, who has been with the company since 2004 and led Old Navy since 2016, will take up the position on 23 March and will join the board of directors.
In her new role, Syngal's "top priority" will be strengthening the performance of the Gap Inc portfolio, which along with its namesake and Old Navy businesses, also includes the Banana Republic, Athleta, Intermix, Janie and Jack, and Hill City brands.
"I'm committed to fully realising the potential of our portfolio and the advantage of our scale, with a focus on strengthening the love that our millions of customers have for our brands. To do that, we must better prioritise initiatives and capabilities that will improve execution and drive value creation," Syngal said.
Chair of the company's board Bob Fisher has served as interim Gap Inc CEO since the departure of Art Peck at the end of last year.
Fisher said the retailer sought a leader who "could make the decisions necessary to deliver value from its portfolio of brands over the long term".
He added: "Sonia has all of the characteristics and experiences needed to effectively execute against the work ahead. She is an excellent operator who drives innovation and decisive action, and she leads with both vision and heart."
As CEO of Old Navy, Syngal led the brand from U$7bn to $8bn in sales in three years, expanding its North American presence to more than 1,200 stores in the US, Canada, and Mexico.
Prior to that role, she was executive vice president of global supply chain and product operations, responsible for managing Gap Inc's global supply chain and redefining a "best-in-class product-to-market model" for its portfolio of brands.
Her appointment comes after Gap Inc scrapped plans to spin off its Old Navy chain as a standalone company in January. Syngal was due to continue leading the Old Navy business.
Meanwhile, Gap Inc has announced that board member Bobby Martin will take the role of executive chairman, effective 23 March. Martin has served as president and CEO of Wal-Mart International, as a former director at Dillard's Inc, and as a member of the Gap Inc board since 2002.
Elizabeth Smith and Amy Miles have also been elected as new members. Smith and Miles have previously served as CEO of Bloomin' Brands and Regal Entertainment Group, respectively. They will join the board on 1 April.
What the analysts say
Commenting on Syngal's promotion, Neil Saunders, managing director of GlobalData Retail, notes: "This is a sound appointment. Syngal knows and deeply understands the business and, despite some recent soft results, has a great track record at Old Navy.
"Syngal comes into this with her eyes open. She will be acutely aware of the issues with the Gap brand and will be keen to enhance performance.
"If she follows the Old Navy playbook then we can expect Gap to become a more nimble business that is more reactive and receptive to trends and tries to inject that newness into ranges. That, in itself, will help."
However, Saunders says Gap is more complex than Old Navy with a wider customer demographic, noting the brand is "fairly tarnished."
He adds: "Some of the merchandising changes needed are subtle. And a new position and brand essence is needed. So, there are no easy or quick fixes and Syngal will have her work cut out.
"What's most important is that Gap doesn't simply become an Old Navy variant. It can learn from Old Navy, but it must not become Old Navy."
Meanwhile, Susan Anderson, analyst at B Riley, says Syngal's appointment is a "natural choice" as she brings the knowledge of Gap Inc and has demonstrated strengths to drive accountability, improve operational excellence, and strong leadership with Old Navy.
"Near term, she will likely be focused on improving the performance of Gap while continuing to deliver growth at Old Navy and Athleta. We believe Syngal's strengths are in operations, and there will likely be strong product teams across the brands to compliment her operational expertise. We do not expect an immediate shift in strategy, but more a strong focus on prioritisation and driving accountability."
Regarding Martin's appointment to executive chairman, Anderson notes he "brings an external perspective to the company as well as large public company perspective."
She adds: "He was most recently the CEO of Wal-Mart International. We believe this could be valuable as Gap Inc continues to work on turning around the Gap brand."
Meanwhile, the addition of Smith and to the board brings more diverse experience that is consumer- and tech-focused to help create a consumer-focused experience, Anderson says.
In its most recent quarterly update, Gap Inc reported a drop in third-quarter net income to US$140m from $266m in the prior-year period, while net sales were $4bn, a decline of 2% compared with last year.
The company is due to report its fourth-quarter earnings results on 12 March.