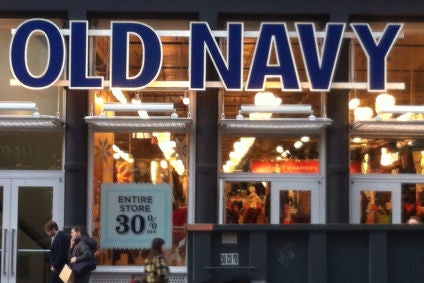 US specialty apparel retailer Gap Inc has scrapped plans to spin off its Old Navy chain as a standalone company, and announced the departure of the Gap brand's president and CEO Neil Fiske.
Under plans announced last March, Old Navy would run as a separate company, while the group's remaining Gap, Athleta, Banana Republic, Intermix and Hill City labels were to operate under the new Gap Inc.
"The plan to separate was rooted in our commitment to value creation from our portfolio of iconic brands," says Robert Fisher, Gap interim president and CEO. "While the objectives of the separation remain relevant, our board of directors has concluded that the cost and complexity of splitting into two companies, combined with softer business performance, limited our ability to create appropriate value from separation.
"The work we've done to prepare for the spin shone a bright light on operational inefficiencies and areas for improvement. We have learned a lot and intend to operate Gap Inc in a more rigorous and transformational manner that empowers our growth brands, Old Navy and Athleta, and appropriately focuses on profitability for Banana Republic and Gap brand."
To this end, Gap now plans to appoint a new CEO to "with the appropriate experience necessary to lead a portfolio of retail brands and to support our transformation efforts."
There had been speculation in November that the company would not proceed with the separation process following the departure of long-standing CEO Art Peck, who had been behind the move.
Leadership shakeup
Amid the departure of Fiske, the former Billabong International CEO who was appointed to lead the Gap brand in June 2018, four of the company's senior leaders have taken on additional responsibilities reporting to Fisher.
Mark Breitbard, president and CE of Banana Republic, will now lead Gap's collection of specialty brands, including Gap, Banana Republic, Athleta, Janie and Jack, Intermix and Hill City. While Sonia Syngal, president and CEO of Old Navy, will continue to lead the Old Navy business.
Teri List-Stoll, executive vice president and chief financial officer, will lead corporate operations related to finance, supply chain, technology and real estate; and Julie Gruber, executive vice president, global general counsel, corporate secretary and chief compliance officer, will lead corporate administrative functions.
Financial performance
Gap Inc's change of heart on the Old Navy spinoff came as it also provided guidance for fiscal 2019, following the all-important holiday season.
The specialty retailer said its full-year numbers will be at the higher-end of previously reported guidance, with comparable sales and net sales both forecast at the upper range of down mid-single digits and down low-single digits, respectively.
Better than anticipated promotional levels over the holiday period, particularly at Old Navy, mean the company now expects its adjusted fiscal year 2019 earnings per share to be moderately above its previous guidance of US$1.70-$1.75.
"We are working aggressively to stabilise and improve business results," says List-Stoll. "We are committed to sharpened strategic focus, tailored operating strategies and operational discipline and accountability that can strengthen the health and profitability of our brands."
Gap will release its fourth-quarter and fiscal 2019 results on 27 February.
What the analysts say
Susan Anderson, analyst at B Riley, points out that Gap noted its commitment to the spin-out on its third-quarter earnings call on 21 November. "Given that there has been no change in board leadership since November, we view the renouncement as evidence that management lacks a unified view of strategic direction.
"Second, Gap announced that Neil Friske would be leaving the company. Following Peck's departure, we suspected that further management turnover was likely, and are unsurprised given the Gap brand's recent performance, which has posted Y/Y declines in seven out of the last eleven quarters."
Lastly, Anderson also believes that Old Navy's continued outperformance may have played a role in the decision to withdraw the idea of spinning off the segment.
"We remain on the sideline until we feel management can be more consistent with their messaging as well as see improved performance at Gap Brand and the Banana Republic."
For analysts at Moody's Investors Service, the move is a "credit positive."
They note that Old Navy, which comprised approximately 47% of Gap's sales in 2018 and has leading margins within its portfolio, contributes greatly to the company's scale and diversification.
"A larger diversified platform is instrumental to Gap, not only as it relates to managing risk but also relative to leveraging investments in technology and logistics. The significant dis-synergies related to the transaction, as well as most of its separation costs, of approximately $700-800m, will be avoided."