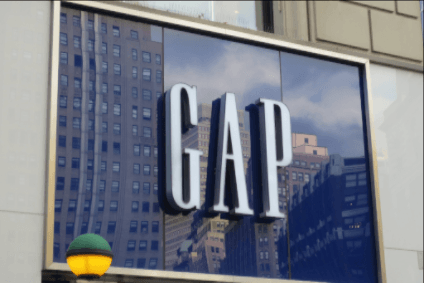 US specialty apparel retailer Gap Inc has started its fiscal year with a 4% fall in comparable sales, dragged down by a 10% decline at Gap stores – and says it is actively monitoring the proposed new US tariffs on clothing manufactured in China.
Speaking yesterday (30 May) on the company's first quarter earnings call, president and CEO Art Peck addressed "the topic that impacts the entire industry": plans by President Trump to impose an additional 25% duty on $300bn worth of Chinese goods – which would include apparel and footwear.
Noting significant uncertainty around what goods the tariffs may apply to and at what level they may be applied, he said: "We've been migrating sourcing out of China for the last several years and we'll continue to do this responsibly going forward.
"As recently as three years ago, about 25% of our product was manufactured in China. In our most recent disclosure that number was down to 21%. And if you include only apparel, our penetration is approximately 16%, which is significantly lower than the relevant portions of the industry."
He continued: "We're actively monitoring the issue, we're actively engaged in the conversation, and we're managing our sourcing operations accordingly."
The CEO also noted other headwinds that have been weighing on the business, contributing to a 2% decline in net sales to $3.7bn in the three months to 4 May, compared with last year.
These include "one of the coldest, wettest quarters in memory, and while traffic and sales trends improved, as we move through March and April, it was difficult to overcome the extremely slow business that we and others encountered in February.
"In addition to the poor weather, we had late spring breaks, a late Easter and delayed and lower tax refunds thrown into the mix, as well. We also missed opportunities on our own, and we could have executed as always better across places in our brands."
Comparable sales in the first quarter were down 4% compared with a 1% increase last year. By global brand Gap tumbled 10% against a decline of 4% last year; Old Navy slipped 1% versus a rise of 3% last year; and Banana Republic saw a drop of 3% from a rise of 3% last year.
However, despite a 140 basis point decline in gross margin to 36.3%, net income rose 38.4% to $227m from $164m a year earlier.
Struggling to rebuild brand equity
Neil Saunders, managing director of GlobalData Retail, says Gap Inc's performance shows the business is still struggling to rebuild brand equity with consumers.
He also notes the net income number is flattered by adjustments to take out various costs, including those associated with the planned separation of the brands, as well as gains on the sale of property. "When the adjustments are stripped out, net income fell by 45% – which provides a much truer reflection of the dismal state of affairs within the trading operation."
While Gap was not the only retailer to suffer from weaker demand, the impact of the weather, and a glut of discounted stock in retail, which created a reluctance to pay full price for products, "its figures suggest it performed much worse than other retailers leading to the conclusion that the business is still making many poor decisions about ranges and assortments," Saunders says.
"The Gap brand is an excellent example of this. Every quarter management claims that products are improving and that the business is responding to changing consumer demand. And yet every season, Gap churns out the same bland range of undifferentiated product which has barely changed over the past 20 years. When consumers don't respond to the mundanity, the discounts kick in. These have now become so commonplace that even reductions of 50% or more fail to thrill shoppers.
"It is very hard to understand why Gap puts itself through this continual cycle of pain. The business is seemingly inert and is either unwilling or unable to make the necessary changes, or at least try and test new things. This behaviour is highly worrying, not least because when the business is split, Gap's lacklustre performance will be more exposed than ever.
"If the brand continues on its current trajectory – and there is no evidence to suggest it won't – it is difficult to believe it has a sustainable future."
While Saunders points out "the usually robust" Old Navy also posted negative comparable sales, he adds: "We are inclined to believe that this is more a function of external factors than of serious missteps within the business. However, from our store visits we found ranges across the first quarter pretty underwhelming, which no doubt contributed to the lack of interest.
"Old Navy has been through these dip before and has subsequently rebounded, so we do not see the current performance as being a major cause for concern."
Weaker demand across all banners left Gap with $2.24bn in merchandise inventory – 10% more than it had at the same point last year. The company says this rise was impacted by the acquisition of Janie and Jack, increases in in-transit times, and net store growth year over year.
But as Saunders points out: "This will need to be shifted which will hinder full price sales and further weaken margins. Such a glut nicely symbolises what Gap has become: a retailer trying to shift a lot of stuff which is not particularly appealing to consumers."
Gap Inc is currently in the midst of spinning off Old Navy into an independent publicly traded company in 2020.