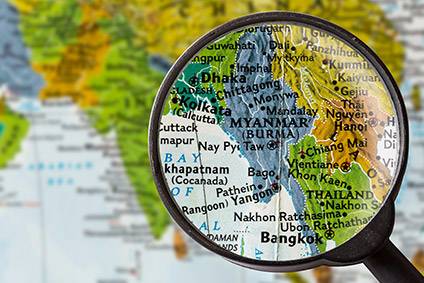 Leading European and US apparel brands and trade associations have called on the Myanmar Government to respect the rights of the ethnic minority population of the conflict-torn Rakhine State or risk further eroding business and investor confidence.
In a joint written statement to the President of Myanmar, Htin Kyaw, 16 organisations including the Ethical Trading Initiative (ETI), Fair Labor Association (FLA), American Apparel & Footwear Association (AAFA), and the Foreign Trade Association (FTA), expressed their concerns about the situation in Myanmar.
Since the escalation in violence earlier this year, more than 600,000 Rohingya refugees have fled across the border to Bangladesh. "Families have been torn apart and individuals have lost their lives," the letter states.
The joint statement expresses commitment to the future of Myanmar and its "successful development," but calls on the Government to take all necessary steps, with the support of international agencies, to bring the crisis to an end and ensure refugees can safely and voluntarily return to their homes and lives.
Rohingya Muslims, which represent the largest percentage of Muslims in Myanmar, have been fleeing the northern Rakhine province of the country since August for neighbouring Bangladesh.
The Government of Myanmar, a predominantly Buddhist country, is denying the Rohingya citizenship, seeing them as illegal immigrants from Bangladesh. Myanmar's military says its offensive is against Rohingya militants and denies targeting civilians, yet the United Nations has described it as a "textbook example of ethnic cleansing."
On 23 November, Bangladesh signed a deal with Myanmar on the return hundreds of thousands of displaced Rohingya people who fled the army crackdown to Bangladesh. A statement from the country's foreign ministry said people could begin to return within two months.
On Friday (8 December), Myanmar was understood to have invited cooperation from the domestic and international community to help it rebuild and resettle the Rakhine state, according to Myanmar News Agency.
Myanmar Minister for Social Welfare, Relief and Resettlement, Dr Win Myat Aye, made the stance to foreign diplomats and UN agencies on Thursday, according to Xinhua. The government is also implementing the recommendations of the Special Advisory Commission on Rakhine state, led by former UN Secretary-General Kofi Annan, the minister said.
According to the news agency, all displaced Rohingya people taking shelter at 31 camps in Sittway, capital of Myanmar's Rakhine state, have now returned home. While local authorities are allocating land to those who lost their homes in the conflicts and providing food and security to all communities in the area, officials have said.
Myanmar is a rapidly growing garment and textile sourcing destination for the global fashion industry, with garment exports expected to reach up to US$3bn this year, boosted by an increase in investment and orders, particularly from Europe.
Indeed, Myanmar exported some $2.15bn worth of garments to the world across HS61 (knitted) and HS62 (woven) product categories in 2016, of which $961m – 45% – went to the EU, according to the UN International Trade Statistics Database. Japan, which until last year had been the largest buyer, accounted for 31% of Myanmar's garment exports and South Korea 16%.
Clothing is Myanmar's third largest export, accounting for around 16%, behind agricultural goods (27%) and natural gas (23%).