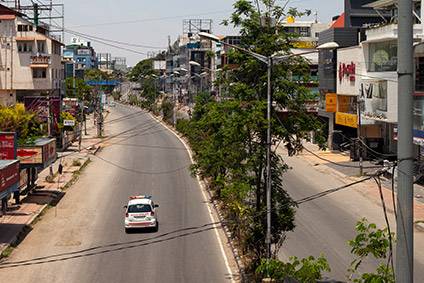 The Indian state of Karnataka has entered a two-week lockdown, which includes garment manufacturing facilities.
The state government order lasts until 12 May.
According to a report published by The New Indian Express, citing the official order, all social, political, sports, entertainment, academic, cultural, religious functions, and other gatherings and congregation are prohibited and religious places will remain closed for the public.
Shops dealing with food, groceries, fruits, vegetables, dairy and milk booths, meat and fish, and animal fodder will be allowed to function from 6am to 10am.
"All industries, industrial establishments and production units other except related to garment manufacturing are permitted to operate adhering to Covid appropriate behaviour," the report cited the order as asserting.
Meanwhile, a report by local publication The Hindu said chief minister B.S. Yediyurappa of the Karnataka Employers' Association had urged the government to permit the operation of garment industries with 50% attendance during the period.
Association president B.C. Prabhakar is cited as saying the garment industry had received "good order" from Europe with strict timelines. "If there is a delay, it will result in huge penalty, losses, and also employment loss. Foreign buyers may divert orders to countries such as Bangladesh," he is quoted as saying.
The report adds Prabhakar notes a 50% operation would help to clear raw materials that are already in transit and warned suppliers sourcing raw materials from cotton growers would also be affected.
"Total closure can lead to people returning to their hometowns and they may not return for some time. This will put industry in further trouble," he is cited as stating in a letter.
India has in recent weeks seen a surge in Covid-19 cases and has broken the record for the biggest one-day total seen anywhere in the world since the pandemic began.
According to credit ratings agency ICRA, which is part of Moody's Investors Services, the garment sector may not see a full recovery to pre-Covid levels until 2023.
Earlier this month, the Apparel Export Promotion Council (AEPC) urged the Indian government to exempt factories from lockdowns and requested an essential service sector tag for the "labour-intensive" apparel export industry.
"The industry, which supports over 13 million workers directly and many more indirectly, in rural and backward areas and largely comprises MSMEs, will be severely impacted by the disruption, if the lockdown is again imposed in the factories," AEPC chairman Dr A Sakthivel wrote in his letter to the government.
"Being one of the most labour-intensive industries, while we are concerned about the health and safety of the workers, we are also concerned about their livelihoods.
The body added all factories have been taking stringent measures and following strict health protocols, as per the Ministry of Health guidelines and other advisories.
Dr Sakthivel added the apparel export industry recently got back on track, with migrant labourers back, orders beginning to stabilise, and exports looking up.
"The lockdown, at this point, will disrupt the last one year of hard work put in by the industry in getting back on the global map and on the survival path," he said.