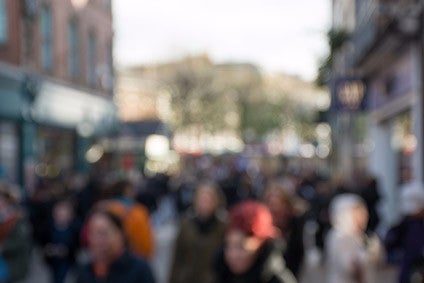 Consumers will be unlikely to prioritise clothes shopping in the near-term as nations emerge from the coronavirus pandemic – but suppliers are confident it should be business as usual by autumn.
Speaking on a webinar for the second Kingpins24 virtual denim sourcing event, Hasan Javed of garment manufacturing group AGI Denim, Leo Gu of China's Prosperity Textile, and Alberto de Conti of chemicals manufacturer Rudolf Group, discussed early signs of what they are seeing as nations attempt to get back on their feet following the pandemic.
Gu said retailers that have been able to leverage both online and offline channels have performed better in the market, particularly when they have used social media to reach consumers as it has allowed the brand to stay relevant.
de Conti explained while things are gradually returning to a sense of normal in Europe, the shopping experience is wildly different and a resurgence is a long way off.
"In Belgium, you can't try clothes on. You have 60 days to return items. In some sense, although I don't want to be negative, it takes the pleasure out of shopping. I'd rather shop online as it is the same thing; almost the same experience.
"Moreover, since restaurants and other excursions have been closed for a long period and are now opening up, you are seeing lower footfall. As a result, these locations are charging higher prices as they are trying to operate a normal service but with far fewer visitors. What that means is wallets are thinner when it comes to shopping for clothes."
With the pandemic forcing global store closures around March, much of the spring season has been lost.
Javed says: "We are now entering the summer season. Spring was the worst hit. For denim, the summer season is the smallest. But I don't think it is a doomsday scenario as was previously feared. Much of the summer stock is being carried forward into later seasons and at worst case, is written off. We do have the fall season to look forward to. It's when schools in the US open up and if everything reverts to normal by then we should see an uptick in business. And that's our busiest season."
But the experts agree there will be a change in demand for what customers are looking for going forward. Products made sustainably and antimicrobial, antibacterial properties will be highly sought after.
"We've seen our supply change dramatically since the start of Covid. It's now all to do with personal protection — antimicrobial, solution for liquid repellence. So for us, the manufacturing output has changed a fair bit. It might well be when looking at denim, the output is going to be different. So denim of a higher quality and possibly even a different functionality. Whether brands and retailers have the confidence to go out with an elevated product at a higher price, remains to be seen. We hope the market does go toward a better product," says de Conti.
Javed adds: "Functionality will be very important. Brands are also doubling down on their sustainability intentions. They are asking for more sustainable products such as hemp which we launched last year, more requests for dyeing with less wastewater, less water, sustainable finishes also antibacterial and antimicrobial. There will be more unique requests from customers and also more need for customisation, it won't be the same basic denim that everyone used to buy."
He also says where efficiency was the priority previously in supply chains, manufacturers must be prepared for a higher demand for flexibility.
"Customers are going to want to place shorter bets, there will be late commitments and will probably want to immediately trigger styles that are doing well. Manufacturers will want to stay lean. They will have to incorporate agility, speed, flexibility. They will likely need more versatile fabrics that can be used in later seasons. Overall we need to build a more resilient supply chain. There will be challenges but we need to have a can-do attitude. I use examples of China. There are examples of Wuhan making hospitals in less than ten days. That's the sort of can-do attitude we need on our side. There will be opportunities, we just need to remain flexible."