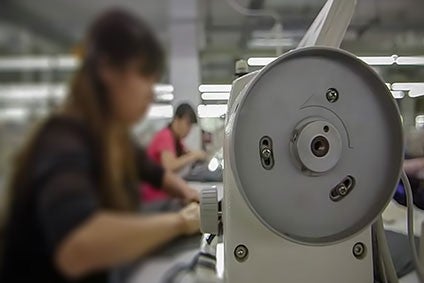 A Bangladesh denim manufacturer is calling on fellow garment suppliers to create a "safety net" for workers to avoid a repeat of the disastrous consequences they faced as a result of the Covid-19 pandemic.
Mostafiz Uddin, founder of Denim Expert Bangladesh, explains in a documentary aired by the BBC, that garment factory workers have inevitably become collateral damage of the outbreak, which forced global store closures and resulted in buyers cancelling orders placed with suppliers, leaving them in severe financial distress and, in many cases, unable to pay worker wages.
Factories in Bangladesh were ordered to close on 26 March in a bid to curb the spread of the virus, with all workers sent home.
One worker, interviewed at the time factories were closed, urged a reopening of factories, adding "if this situation continues we will die starving instead of the virus."
"Half of the workers would die for want of food," she said.
Video footage from Denim Expert shows thousands of pairs of finished jeans, piled on to workstations and in on-site warehouses, with the supplier unable to dispatch as buyers cancelled orders or requested orders be held until a later date.
Uddin says he is paying up to US$2,000 per day for ports to hold raw materials that were shipped for him to be able to fulfill buyer orders as he has nowhere to store them.
"There is no space anywhere here," he asserts. "And it is not safe for the workers either."
Uddin borrows loans from the bank to pay for raw materials up front as well as worker wages and usually receives payment from buyers on delivery of goods.
"We work on trust and faith and belief. Our business is like that in our industry. Everybody in this supply chain works like that. Whatever was supposed to be produced in March, we had not ordered that in February. We ordered that in December. So when the pandemic hit and everything shut down, the containers were still coming. And the stuff is still piling up in the port."
He adds his priority is his 2,000 workers and ensuring they are fed and their families are "kept alive" rather than clearing goods from the port, resulting in him taking on deep debt.
"I am not the only one. Global manufacturers are suffering. Not just in Bangladesh. If you go to India or Pakistan, they are also in the same situation.
"As an industry, as the apparel community, we should create some kind of safety net where our workers are safe and secure. They should not have suffered the way they have during the pandemic."