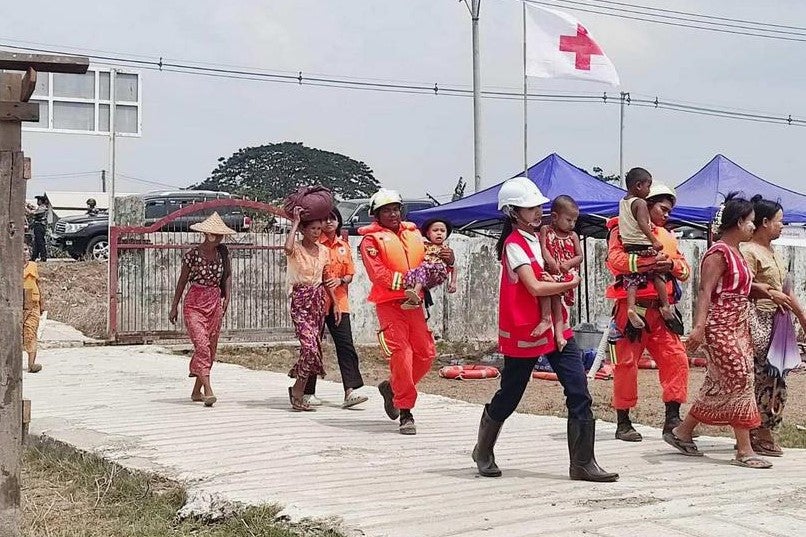 The H&M Foundation has pledged a $250,000 to the Red Cross/Red Crescent with the aim of assisting both Bangladesh and Myanmar in their recovery efforts following the cyclone on 14 May.
The impact on the garment sector in both regions remains unclear with non-profit Smart Myanmar unable to supply a comment on the impact for garment workers within the country and the Bangladesh Garment Manufacturers and Exporters Association (BGMEA) had not responded to Just Style's request for comment on the impact on Bangladesh's garment sector at the time of going to press. 
The H&M Foundation's donation of $250,000 is specifically earmarked for the Red Cross/Red Crescent's initiatives in Myanmar and Bangladesh following what is being described as the strongest cyclone to the hit the coastal region in the last 10 years.
The funds will be channelled towards providing comprehensive assistance to individuals in need, with a holistic approach spanning multiple sectors.
The goal is to aid relief efforts include ensuring access to shelter, healthcare, and essential supplies for the affected communities.
The cyclone unleashed heavy rainfall, fierce winds, flooding, and triggered landslides in coastal and low-lying regions. The impact of this natural disaster has caused widespread damage to infrastructure, agriculture, and the livelihoods of communities in the affected areas.
Expressing his concern for the affected populations, Karl-Johan Persson, a board member of the H&M Foundation, said: "What is happening in Myanmar and Bangladesh is heart-breaking, and our thoughts are with the people affected by this terrible cyclone. Humanitarian organisations and local communities are working hard to help those affected, and we hope that our donation will support the essential aid relief efforts."
Given the urgency of the situation, addressing water and sanitation needs is of paramount importance to prevent water-borne diseases and potential outbreaks during the immediate emergency response phase. Hence, the initiatives supported by the H&M Foundation will prioritise the provision of safe water, sanitation, and hygiene (WaSH) facilities.
Furthermore, the relief interventions will encompass disaster risk reduction and preparedness activities, with an eye towards the impending monsoon season. It is hoped this proactive approach will mitigate future risks and enhance the resilience of vulnerable communities.
In addition, the aid efforts will emphasise community engagement, accountability, as well as protection, gender, and inclusion, ensuring that the needs of all individuals, particularly marginalised groups, are addressed effectively.
Two years on from Myanmar's military coup its Myanmar's garment industry continues to struggle with operations due to its challenging economy and ongoing instability following the military coup that took place two years ago.
Earlier this month IndustriAll called out Swedish fashion group Hennes & Mauritz (H&M) for continuing to source from Myanmar despite the country's humanitarian crisis brought on by the military coup.