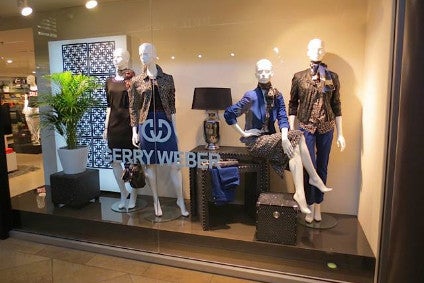 Struggling German women's wear retailer Gerry Weber International has entered into preliminary insolvency proceedings after negotiations with its financing partners broke down.
The move only applies to the parent company Gerry Weber International AG, which employs about 580 staff, and excludes subsidiaries including its core Hallhuber brand. The company also stresses that existing supplier relationships remain unchanged.
Under the insolvency proceedings, the group's business operations will continue as normal, with the managing board remaining in office with all powers and responsibilities, pending the court's approval. According to a statement, the continued financing of the company's operations is safeguarded until 2020.
"Unfortunately, the application for the court order of preliminary proceedings under self-administration has become inevitable," says Johannes Ehling, spokesman of the managing board of Gery Weber International AG. "Up to the last moment there were major efforts, to avert the proceedings.
"I am absolutely convinced, that after the successful restructuring we will return from the proceedings back to the path to success. With our core business, our strong brands and especially our outstanding team we are ideally positioned for this. Despite the initial disappointment related to the opened proceedings under self-administration, we feel that our restructuring measures and the Performance Program are well received by customers, business partners and employees."
Entering the preliminary proceedings under self-administration gives the group the flexibility to press ahead with its restructuring, adds board member Florian Frank.
"We are benefiting from the fact that over the past few months we have been able to prepare the necessary structures in the financial sector in order to ensure successful management of the company with the greatest possible transparency. We will continue to work hard on this."
In December the group outlined plans to close around 230 retail spaces with the loss of up to 900 jobs, both nationally and internationally, including positions in stores and retail spaces, as well as in centralised functions including logistics.
And earlier this month, the retailer said the losses incurred in its last financial year were wider than it reported in December, reflecting a EUR44.2m (US$50.5m) impairment – the vast majority of which it says is related to its core Hallhuber brand.