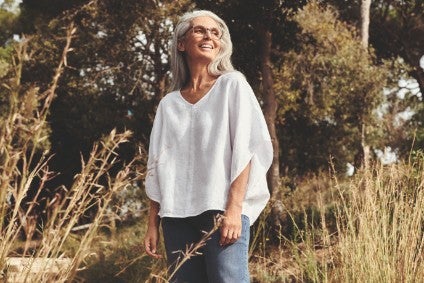 German womenswear retailer Gerry Weber International has revealed plans to launch its first sustainable apparel collection later this year across its Gerry Weber, Taifun and Samoon brands.
Due to launch in May, the 'I wear, I care' collection includes clothing made from Global Organic Textile Standard (GOTS) certified organic cotton and Lenzing EcoVero, a planet-friendly alternative to viscose.
Denim in the collection, meanwhile, is produced using a new environmentally-friendly indigo yarn dyeing process that uses foam instead of water. Developed by Tejidos Royo, a Spanish fabric mill, the Dry Indigo process eliminates 99% of the water typically used in indigo-dyeing, uses 89% less chemicals, and reduces energy usage by 65%.
Since 2016, Gerry Weber says it has continuously increased the proportion of its sustainably produced goods and a complete collection is "the logical next step."
"The demand for sustainably produced and certified fashion increases continuously," explains Urun Gursi, chief product officer of Gerry Weber International AG. "It is very important for us to produce our fashion in a responsible manner and – above all – focus on a steady improvement process. We all invest a lot of passion and time into the search for new technologies and new ways to work with recycled materials."
In addition to the upcoming line, Gerry Weber says 40% of the group's collections for March to May are "sustainably produced articles" and that it plans to further increase the proportion of its sustainable apparel.
"Sustainability is no short-term trend, but an important investment into the future of our brand," adds Rena Marx, executive vice president for the Gerry Weber brand.