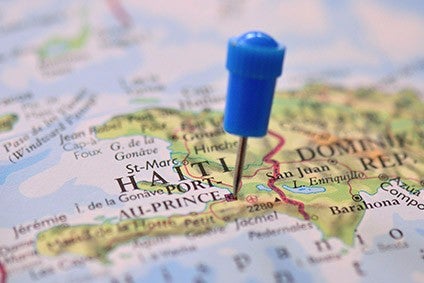 Canadian apparel maker Gildan Activewear has hit back at allegations that it "continues to violate workers' rights in Haiti and Honduras," telling just-style it is committed to upholding the right to form unions and bargain collectively.
The comments to just-style come after the IndustriAll global union last week alleged Gildan's supplier in Haiti "unfairly dismissed union leader and activists" including 13 members of IndustriAll affiliate GOSTTRA following a strike demanding an increase in minimum wage. It added that the "fired workers have not been reinstated and have even been placed on a blacklist."
Additionally, the union claims that 28 workers were fired in September for being members of the union SITRAGILMAS, part of the Federation of Workers of Honduras (FITH). "The company is refusing to comply with agreements reached with the union, is harassing workers and has made attempts to form a yellow union," it adds.
However, a spokesperson for Gildan Activewear told just-style it takes such allegations "very seriously" and has shared its version of events.
The Haiti dismissals, it said, occurred when there was widespread national unrest in the country, which caused the facility in question to be closed for two days.
"The unrest was largely related to unresolved election results that prevented the annual revision to the country's minimum wage. We were notified of the dismissals after they occurred and our contractor indicated at the time that the individuals had been dismissed, after the facility reopened, for attempting to disrupt production in the facility.
"Gildan has been working with the contractor and other stakeholders to address the situation. At this time we have been informed that remediation has occurred with four of the five workers involved, and discussions are ongoing with the remaining worker."
In Honduras, the spokesperson said, workers were relieved of their duties as "part of a regular seasonal adjustment in production levels due to changes in demand for specific programs."
"At the time of their dismissal, Gildan had not received notification of the existence of the SITRAGILMAS union, nor of any members thereof. This failure to notify the company prior to the 29 September dismissals was acknowledged by the employees themselves during a meeting on 30 September and 1 October, with Gildan and union representatives, during which Gildan agreed to reinstate all employees included in the union registration upon receipt of the official notification from the Ministry of Labor. This official letter was only provided to Gildan at the end of October, nearly 30 days after the initial dismissals had occurred."
The spokesperson adds: "In our view the situation in Honduras has been resolved. We received the letter from the Ministry of Labor on October 31st and have started the process to reinstate dismissed employees."
The clothing giant emphasises that "respect for employees' rights to form unions and collectively bargain is a cornerstone of our strictly applied Code of Conduct.
"We have successfully collaborated with employees in the past few years who have initiated the proper process of forming unions in our facilities. In fact, close to 55% of our employees are currently represented by unions and covered under CBAs [collective bargaining agreements]. In 2017 we provided our employees with more than 28,000 man-hours of training on our Code of Conduct, which includes training on employees' rights of association and to collectively bargain."
Gildan mainly manufactures in its own vertically-integrated facilities the products that generate over 95% of our revenues, "where we obviously have complete control of the operations and practices undertaken within."
In Haiti, "we have engaged with third-party sewing contractors for more than 20 years now, who are under contracts that require them to adhere to our Code of Conduct, our requirements with respect to workplace health and safety and to be compliant with local and international laws. These facilities are 100% Gildan production facilities and we have our own employees overseeing the production to ensure compliance with our quality and CSR standards."