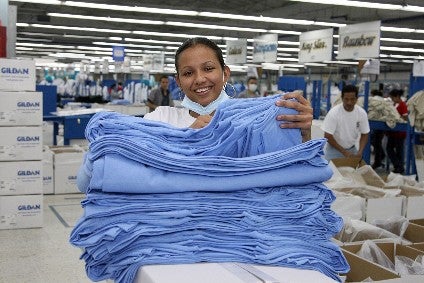 Canadian apparel maker Gildan Activewear has revealed plans to develop a new manufacturing complex in Bangladesh which, once fully operational, is expected to provide the capacity to service over US$500m in sales.
In its first-quarter earnings release after market close yesterday (1 May), Gildan announced the completion of the purchase of a "sizable land parcel" in Bangladesh. The US$45m investment will see the company establish a large multi-plant manufacturing complex on the site, which is currently expected to include two large textile facilities and related sewing operations.
Gildan said it plans to construct and develop the first textile facility over the next 24 months, with initial production at the facility expected to start in the latter part of 2021.
The move is part of its new capacity expansion initiative to develop large-scale vertically-integrated manufacturing in South-east Asia to support expected sales growth.
Speaking on the company's first-quarter earnings call with analysts, Gildan's chief financial officer Rhod Harries said: "Together with our existing and planned capacity expansion in our other manufacturing hubs, this new major initiative in Southeast Asia, when fully ramped up, will provide manufacturing capability across our global system to support over $4bn of total sales."
He added its textile expansion plans in Central America remain unchanged, while the ramp-up of production at its newest facility in Honduras Rio Nance VI is "coming along very nicely."
"Bangladesh provides duty-free access to our targeted international markets and given the size and scope of this new plant manufacturing infrastructure, we will be able to provide strong low-cost supply with increased SKU breadths to drive higher profitability in these markets," he said. "In addition, the incremental capacity that will bring on in Bangladesh will allow us to fully service Europe and Asia from Bangladesh and free up capacity in Central America, [which is] currently used to support European sales, to drive incremental growth in North America.
"Gildan has been operating in Bangladesh since 2010 and we bought a small facility that we have since expanded over the years. We are very pleased with this facility, which currently employs 3,500 people. This experience has given us a good understanding and appreciation of carrying out operations in the country. The land which we acquired is in close proximity to our existing facility."
Analyst Stephen MacLeod at BMO Capital Markets notes the new manufacturing hub will enhance Gildan's ability to service international markets, and supports its long-term target for mid-single digit top-line growth.
Q1 sales in line with expectations
The news comes as the apparel maker reported first-quarter results in line with expectations, setting it on track to deliver on its full-year sales and EPS targets for 2019.
As expected, earnings were down for the quarter versus last year due to anticipated factors, including the impact on sales from lower levels of distributor restocking and higher raw material and other input cost pressures.
Net earnings for the three months ended 31 March, amounted to $22.7m, compared to $67.9m for the same period last year. Excluding the impact of after-tax restructuring and acquisition-related costs in both years, Gildan reported adjusted net earnings of $32.8m.
Gildan said, in addition, the earnings decline reflected a $0.12 per share trade accounts receivable impairment charge primarily related to the wind down of the Heritage Sportswear operations which is under receivership.
Gross margin of 25.8% was down 140 basis points over the same period last year, primarily due to higher raw material and other input costs, including inflationary pressures, and unfavourable foreign exchange, partly offset by the benefit of higher net selling prices and more favourable product-mix.
Net sales, meanwhile, were down 3.6% in the period to $623.9m, reflecting declines of 4.1% in activewear and 1.8% in the hosiery and underwear category.
Looking ahead, the company is now projecting 2019 GAAP diluted EPS of $1.75 to $1.85 and adjusted diluted EPS of $1.90 to $2.00, on projected sales growth in the mid-single-digit range.