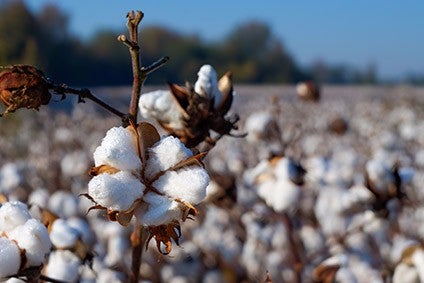 World cotton production is forecast to increase nearly 13% for the 2017/18 year thanks to a rebound in planted area and slightly higher yield expectations for each of the top producers.
US Department of Agriculture (USDA) cotton projections for December show an upward revision in global production to 120m bales, nearly 13% – or 13.4m bales – above last season.
Cotton production is expected to rise for each of the top producers in 2017/18. For India – the largest producer – production is forecast to reach 29.5m bales this season, 9% higher than 2016/17; while cotton production in China is projected at 25m bales, the highest in three years.
Pakistan's production, meanwhile, is forecast at 8.2m, 500,000 bales above last season as production rebounds from the previous two seasons. And for Brazil and Australia, cotton production estimates are expected to rise 11% and 16% respectively.
Meanwhile, global cotton trade is forecast to rise 3% from last season to reach a four-year high in 2017/18 thanks to above-average growth in global cotton mill use during the period. The figures are projected at 38.5m bales in 2017/18 compared with 1.2m bales above last season.
However, 2017/18 world cotton trade remains 17% below 2012/13's record of 46.5m bales.