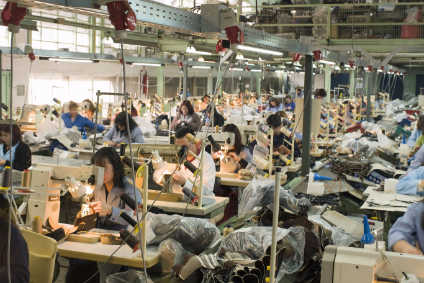 Global companies are still falling short on human rights, according to a new report from the World Benchmarking Alliance (WBA).
The study assessed 230 of the world's most influential companies in the apparel, automotive manufacturing, extractives, ICT manufacturing and agricultural products sector on their human rights disclosures.
In the apparel sector, brands assessed included adidas, Amazon, Associated British Foods, Burberry, Capri Holdings, Columbia Sportswear, Fast Retailing, Foot Locker, Gap Inc, Gildan Activewear, Hanesbrands, Heilan Group, H&M, Hermes International, Hugo Boss, Inditex, Kering, L Brands, Lululemon Athletica, M&S, Next, PVH Corp, NIKE, Ralph Lauren, Under Armour and VF Corp.
Due to the Covid-19 pandemic and associated impacts, companies were only assessed on a subset of the Corporate Human Rights Benchmark (CHRB) methodology, namely the 13 CHRB core United Nations Guiding Principles indicators that reflect the three key areas of the United Nations Guiding Principles on Business and Human Rights: high-level commitments, human rights due diligence, and access to remedy.
53 of the world's largest apparel companies were assessed and achieved an average score of nine out of 26.
"Female workers are often subject to discrimination and other exploitative labour practices on the factory floor. Ensuring gender equality and female empowerment is one of the 17 goals of the SDGs. As an industry with an estimated workforce of 3.5bn people globally – many of whom are women – the apparel sector can play a big role in achieving this goal," WBA said.
The study notes in the 2020 review, the apparel sector shows "promising overall improvement" with 81% of companies having a basic commitment to human rights.
The top three apparel companies are Adidas with a score of 23 of 26, Tesco at 21.5 of 26, and Marks & Spencer Group at 20.5 of 26.
When it comes to respecting the rights of workers, just under half of the companies (45%) had commitments to the International Labour Organization (ILO) core labour standards (freedom from forced labour, freedom from child labour, freedom from discrimination, and freedom to associate and collectively bargain) and expect their suppliers to explicitly commit to respecting each of those rights.
But, many companies are still failing to disclose information about this process. In 2019, 25 apparel companies scored zero across all human rights due diligence indicators. In 2020, only two companies improved their score in this area, with 23 companies continuing to score zero.
Overall review of assessed companies
Nearly half of all assessed are failing to demonstrate they are conducting human rights due diligence in line with the United Nations Guiding Principles on Business and Human Rights, said the study.
"There is a concerningly large group of companies who have made little to no progress in the last 12 months. We're sensing a real reluctance from the laggards to improve," said Camille Le Pors, CHRB lead at WBA.
"When we look at the companies assessed for the first time this year, 70% failed to score any points on human rights due diligence. While a small group of companies are demonstrating strong commitment and processes, it's not always clear that these deliver their intended effects. Clearly, businesses alone won't raise the bar and with CovidD-19's compounding impact, there is a real need for regulatory action, as planned by the European Union, as well as increased investor pressure to force change."
Following the 2019 edition of WBA's CHRB, 95 companies were targeted by a joint statement from a group of 176 investors for scoring zero on all human rights due diligence indicators. Of these, 79 are still scoring zero in 2020.
Marte Borhaug, global head of sustainable outcomes at Aviva Investors, a founding member of the CHRB, added: "Despite some progress, too many of the world's largest companies are failing to meet investor expectations on human rights issues, especially around due diligence in their supply chains. This lack of improvement is unacceptable, and these companies should be required to explain to investors, as well as other stakeholder groups, why their disclosures on such an important topic are so poor.
"The societal, financial and moral imperative is clear – the global business community needs to step up its game if we want to have any chance of achieving the Sustainable Development Goals by the 2030 deadline."
Click here to access the full report.