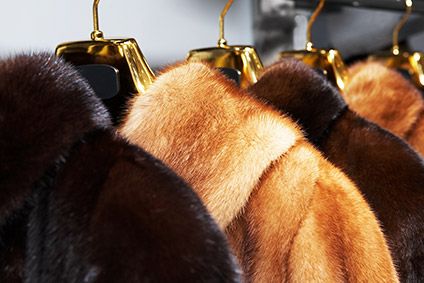 A global fur strategy has launched aimed at offering the industry and wider supply chain "clearer direction" when it comes to animal welfare and environmental protection and will include the roll-out of a global welfare certification and traceability scheme.
Unveiled in London yesterday (17 February) by the International Fur Federation (IFF), the 'National Fur' Strategy' is based around the UN's sustainable development goals and comprises three key pillars and eight initiatives targeting welfare, people, and the environment.
"Fur is one of the most sustainable natural materials, the epitome of 'slow fashion', and is an industry worth an estimated US$30bn per year that employs hundreds of thousands across the globe," says chief executive of the IFF, Mark Oaten. "All of those involved in the sector and wider supply chain have a role to play in helping to meet and deliver these ambitious goals and this strategy will help them to do that."
The three pillars are as follows:
Welfare
Already based on stringent controls, standards and independent inspection, the fur industry will in 2020 launch Furmark, a global welfare certification and traceability scheme that will incorporate a range of species-specific farm-raised and wild fur programmes providing consumers visibility and transparency.
Seek to bring other fur-bearing species and country-specific programmes into Furmark by 2025 as the respective science-based, certification standards are implemented and independently assessed.
Environment
In 2020, publish independent science-based evaluations of the carbon footprint of farm-raised and wild fur followed by the introduction of ambitious ten-year reduction targets.
In 2020, roll out a comprehensive chemical standard for the dressing and dying process backed by third-party inspection and verification.
In 2020, expand sector programmes to promote re-use, up-cycling and recycling of natural fur.
People
In 2020, roll out the requirement of businesses involved in the fur sector to ensure globally recognised business practices including anti-corruption policies.
In 2020, roll out initiatives to recognise the role of workers within the supply chain including adoption of industry-wide anti-slavery commitments and recognition of indigenous peoples involved in fur production.
By 2025 introduce social and environmental certification through the Furmark supply chain.
The Natural Fur Strategy will be reported regularly and subject to external transparency and validation, the IFF says.
A number of clothing retailers have come under fire over the sale of real fur in stores. Most recently, department store retailer House of Fraser was called out over the reported return of real animal fur into its stores.
The UK banned fur farming almost two decades ago in 2000 on ethical grounds, which was extended to Northern Ireland and Scotland in 2002. Since then, however, Humane Society International/UK (HSI) says the UK has allowed imports of more than GBP820m (US$1.06bn) worth of fur from overseas, including Finland and China.
HSI says the new strategy is just the fur trade's "increasingly desperate efforts to paper over the ever-widening cracks in the industry's PR crisis".
"It's a thin, meaningless veil over the same cruel, outdated business," says Claire Bass, executive director. "It boasts a welfare certification scheme that rubber-stamps keeping animals in one-metre-squared battery cages their whole lives before anally electrocuting them or, in some cases, simply beating them to death. It promotes an environment 'standard' that turns the other way while fur is dipped in toxic and carcinogenic chemicals to stop it rotting, and while rivers are horrendously polluted with nitrogen and phosphorus from farms' faecal run-off. It claims a commitment to care about 'people', while the stench from mega-fur farms, set up in Eastern Europe to exploit cheap, seasonal labour, means rural communities can't go outside many days.
"Fur is only 'natural' when it's attached to a live animal's back. Companies and ethically savvy shoppers will see easily through this facade, and will continue to reject the fur trade. After California banned the sale of animal fur last October we're pushing for the UK to become the first country to ban it, and we're encouraged by the unanimous cross-party support so far."
Meanwhile, PETA's director Elisa Allen says real fur is "mean, not green", and that sales are kept going only by "desperate marketing ploys from a dying industry".
"Whether the fur was torn from a frightened caged fox or a terrified coyote caught in a steel trap, it's not "fabric" and it's not ours for the taking. It belongs to those who were born in it. Chic faux fur – and other non-animal materials – is always the compassionate and more eco-friendly choice."
According to PETA, producing a garment made with real animal fur is up to ten times more environmentally damaging than making one from faux fur.
"Government agencies around the world have identified the fur industry as a major polluter of land and waterways, and the World Bank Group ranks "fur dressing" as one of the five worst industries for toxic-metal pollution. This is because skins are only ever "natural" on animals, and once removed, they must be treated with chemicals that stop decomposition. In addition to natural fibres like hemp, jute, and cotton, modern animal-free fabrics such as those derived from recycled plastics and fruit waste are revolutionising the fashion and clothing industries."
Oaten said, of the comments: "This is a fairly predictable response from PETA and the Humane Society, who are not only opposed to the use of sustainable fur but of leather, wool, meat, milk and even silk. They want the world to follow their vegan agenda, which is totally unreasonable.
"It is also a lie to suggest animals are beaten to death in the legitimate fur trade. This is quite simply untrue, as they well know.
"These organisations broadcast untruths non-stop from their propaganda units to persuade people to pour money into their coffers. PETA spends most of the money on costly overheads while killing up to 90% of the animals they rescue within the first 48 hours. Their hypocrisy is astounding."