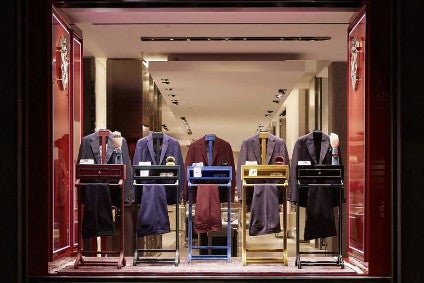 French luxury goods group Kering has hailed a "historic performance" in 2017, powered by its flagship Gucci brand – but cautioned the strong euro may weigh on its business in 2018.
During the year, net income soared 119.5% to reach EUR7.79bn (US$9.61bn), compared to EUR813.5m last year. Earnings per share more than doubled to EUR14.17 in 2017, up from EUR6.46 in the prior year.
Consolidated revenue for the period came in at EUR15.48bn, up 27.2% on a comparable basis and 25% as reported.
Sales in the group's luxury activities passed the EUR10bn mark for the first time, up 27.5% as reported and 29.9% on a comparable basis to EUR10.78bn. The sharp increase in revenue was driven by 35.3% comparable growth in its directly operated stores, driven by Western Europe and the Asia Pacific region. Wholesale revenue climbed 16.7%.
Gucci was, once again, the group's standout performer, with a performance hailed as "nothing short of spectacular". The label saw its revenue for the year top the EUR6bn mark for the first time at EUR6.2bn, up 41.9% as reported and 44.6% on a comparable basis.
All of the brand's main product categories contributed to sales growth in the directly operated store network. Online sales soared by more than 80%, while sales in the wholesale network were up 34.7% on a comparable basis.
Meanwhile, Yves Saint Laurent delivered "another exceptional performance" over the year, with 2017 revenue up 23% as reported and 25.3% on a comparable basis to EUR1.5bn, while Bottega Veneta's performance confirmed the solid execution of its action plans, and Balenciaga delivered the fastest growth rate of all group brands in the second half.
Sales in the group's sport and lifestyle division were also up, by 14.7% to EUR4.38bn on a comparable basis thanks to a 15.8% rise year-on-year in Puma revenue, as full-year sales topped the EUR4bn mark for the first time.
Kering CEO François-Henri Pinault said all of the brands enjoy "huge growth potential" and noted the group "unequivocally" demonstrated the strength of its business model during the year.
"In a global environment that remains uncertain, we will not relax our vigilance, but we are confident that the complementarity of our houses, our geographic footprint, the diversity of our customer base and the strengths of an integrated luxury roup will enable us, this year again, to do much better than our markets," he added.
However, in a note of caution the group warned its operating environment remains unsettled – from both an economic and a geopolitical standpoint. In addition, the recent currency fluctuations – especially for the euro, which has gained ground against most of other currencies – may weigh on its performance.