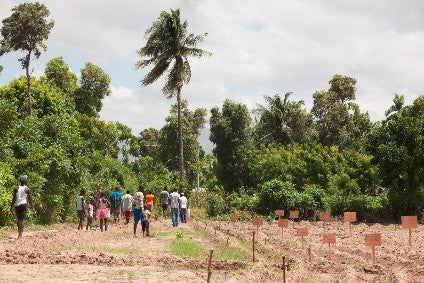 US outdoor apparel and footwear giant Timberland has participated in Haiti's first commercial cotton harvest in three decades after working to help the country make its return to the cotton supply chain.
Representatives from the brand joined smallholder farmers in picking cotton last week, marking a key milestone in Timberland's project with the Smallholder Farmers Alliance (SFA). Timberland has been working with the SFA since 2016 to help reintroduce cotton farming – once the country's fourth-largest export crop – to Haiti. The initiative aims to create a new sustainable supply chain of organically grown cotton while simultaneously providing social and environmental benefits to Haitian farm communities.
"Our work with the Smallholder Farmers Alliance to reintroduce cotton growing touches on each of Timberland's key commitments – to create responsible products, protect the outdoors and serve communities around the world," explains Atlanta McIlwraith, Timberland's senior manager for community engagement and communication. "Before long, we will have a new source of sustainable cotton for our products through a model that also reforests Haiti and improves farmers' lives."
Last year, Timberland committed to purchasing up to one-third of its annual global cotton supply from Haitian smallholder farmers, adding it hopes to launch products made with the fibre in the next two years.
Timberland initially partnered with the SFA on its 2010 public commitment to plant 5m trees in five years. The SFA fulfilled the commitment by applying a new model through which farmers grow trees to earn a range of crop seeds, tools, training and other agricultural services. Over five years, the SFA achieved its target of planting 5m trees (more than 7m to date), and participating farmers saw an average 40% increase in crop yield and 50-100% increase in income. The SFA named its innovative new model "tree currency."
Now that Timberland has evolved from being a sponsor to a customer of Haitian-grown organic cotton, this "tree currency" remains central to the operation. Fuelled by additional support from the VF Foundation to invest in programme infrastructure, the SFA model will expand to allow farmers to continue to grow trees to finance food and cotton crops side by side (and in rotation). Over the next five years, the SFA expects to plant an additional 25m trees and grow cotton exports to 10m pounds a year.