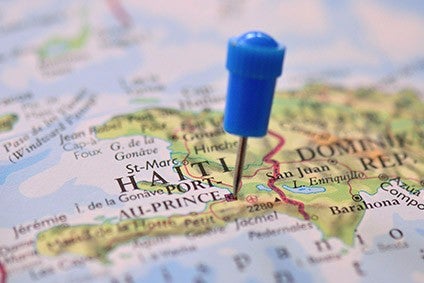 Haiti plans to reopen its key textile industry next week, Prime Minister Joseph Jouthe has declared, as the initial term of the country's state of emergency comes to an end.
According to a report published by Reuters, the government is weighing up whether to extend the lockdown – but is allowing the textile manufacturing sector, which makes up 90% of exports, to restart operations on Monday (20 April), regardless.
The industry would start running at 30% of its capacity to ensure social distancing in the workplace.
Haiti has registered 41 cases and three deaths as a result of the coronavirus outbreak. It declared a state of emergency following its first two cases last month, closing borders and shuttering schools, places of worship and industrial parks.
The move comes despite warnings from health experts the outbreak has yet to peak in Latin America and the Caribbean.
Haiti is the poorest country in the West with an export economy nearly totally dependent on apparel. It has recently accelerated its apparel production and reintroduced cotton growing to reduce cost and support vertical integration. Main inputs into Haiti's apparel industry are cotton fabrics predominantly sourced from the Dominican Republic and synthetic fabrics mainly from China. Since 2016, exports have rebounded significantly with continued growth in 2019.
Georges Sassine, the head of Association Des Industries d'Haiti told Reuters: "The question was whether to die of hunger or of coronavirus."
Earlier this month, Haiti was one of 25 countries to receive a fast-tracked US$1.9bn in emergency funding from the World Bank Group to deal with the outbreak.