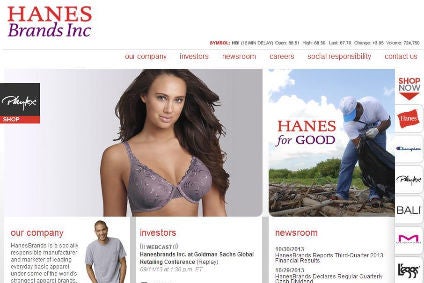 Underwear and activewear maker HanesBrands has scored in the top 6% of nearly 7,000 companies that participated in the most recent CDP 2018 Climate Change Report – formerly known as the Carbon Disclosure Project – and achieved the highest score in the apparel industry.
The company, based in Winston-Salem, North Carolina, has voluntarily reported its carbon emissions data since 2010 and this year earned an A- score for its transparency and by managing emissions, implementing best practices and taking coordinated action on climate-change issues. Receiving nearly across-the-board scores in the A range, Hanes' performance was also higher than the company's reporting sector average (B-) and regional average (C-).
HanesBrands also scored higher than its reporting sector and region on the CDP disclosure for water. The company's forest disclosure was not scored by CDP but is available on the organisation's website.
"Hanes' A- score is a significant milestone in our company's mission to be an international business leader in energy management and eco-friendly business operations," says CEO Gerald Evans Jr. "This achievement is a direct result of the engagement of our 68,000 worldwide employees, and I thank them for their support. By embracing environmental stewardship and the conservation of natural resources, Hanes is creating value for our company, our investors, our consumers, our employees, and our communities. And we will continue to work toward achieving our mission."
Hanes, which owns the significant majority of its manufacturing and supply chain operations, is working toward a series of environmental objectives with its 2020 goals including to reduce energy consumption and carbon emissions by 40% from its 2007 benchmark.
In 2018, the company also won a US Environmental Protection Agency's Energy Star partner of the year/sustained excellence award, for an unparalleled nine consecutive years.
Other apparel and footwear brands that were scored on the CDP programme include Burberry Group, Asics Corp, Tapestry Inc, Fast Retailing, Gap Inc, Gildan Activewear, Hennes & Mauritz, Hugo Boss, Li & Fung, L Brands, M&S, Next, Nike Inc., Polo Ralph Lauren, PVH Corp and Adidas to name a few.