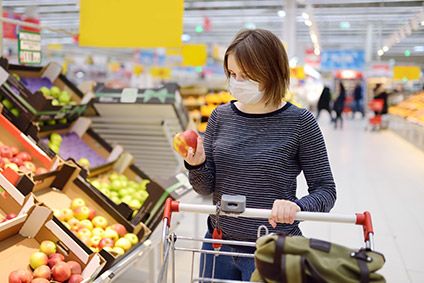 T-shirt and activewear maker Hanesbrands is ramping up the production of masks and protective garments in response to the global coronavirus pandemic – and says the business could become a permanent part of its portfolio.
The Winston-Salem, North Carolina based company, best-known for brands such as Hanes, Champion, Maidenform and Playtex, in early April started converting production capacity to make reusable and washable all-cotton 3-ply face masks for the US Department of Health and Human Services.
Its target was to make more than 320m masks, with production being ramped up to make around 40 million a week.
But speaking on the company's first-quarter earnings call last week, CEO Gerald Evans said the mask and protective garment business could be a sizeable revenue opportunity with growth potential over the next several years.
"Our ability to quickly shift our manufacturing operations to produce new products underscores the competitive advantages of owning our manufacturing network that is balanced across hemispheres," he told analysts.
"We are currently manufacturing reusable facemasks for the US government, as well as launching a Hanes branded consumer programme for several customers. Combined, we believe these programmes can generate well over $300m of sales in 2020.
"Looking forward, there is an expectation that the Covid-19 pandemic will result in more widespread mask usage by consumers and businesses globally.
"Over the past several weeks, we have seen a strong influx of inquiries across a number of geographies from governments, retailers, large corporations and individual consumers.
"Based on the current interest from potential customers, as well as the anticipated change in consumer behaviour around the world, we believe our mask and protective garment business could be a sizeable revenue opportunity with growth potential over the next several years."
The masks, designed by the company's product development team to meet technical specifications, including fabric chemistry, have been approved by the US Food and Drug Administration.
They are intended for everyday wear to help mitigate the spread of the novel coronavirus and serve in healthcare settings where N95 respirator masks and surgical masks are not required.
Diversifying production into masks and protective garments is part of the company's "pandemic strategy" aimed at strengthening its long-term business model and positioning it to take advantage of opportunities.
Other measures have seen it limit discretionary spending, reduce executive pay, manage inventory, and temporarily idle most of its production operations. The company also temporarily closed 1,200 brand stores in the US, Europe and Australia and furloughed workers, helping cut costs by $200m.
HanesBrands has also increased its liquidity to nearly $1.6bn.
In its first quarter to 28 March, the company estimates the pandemic reduced revenue by US$181m and operating profit by about $86m, leading to a net loss of $7.87m and a 17.1% drop in net sales to $1.32bn. International segment sales were down 14%, while innerwear sales fell 11% on last year and US activewear sales dropped 29%.
But the business says orders resumed in April, with a rapid acceleration in online growth, including its own Champion and Maidenform online sites.
"Consumers are also buying our categories at stores within the mass, hypermarket, and dollar store and drugstore channels. The basics reset at a large mass retailer are progressing and we have back-to-school orders from some of our large customers."
Evans adds: "The combination of our pre-Covid performance and the addition of a new protective garment business points to a strong growth profile once the environment stabilises."