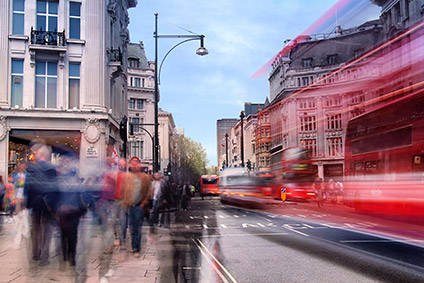 Non-essential retail stores across England and Wales have opened their doors today (12 April), emerging from lockdown 3.0 after three months, with some experts predicting a boost in consumer confidence and the ability to shop stores may see online pureplays take a sales hit.
UK shops closed in early January as the Government enforced measures to try and curb the spread of the coronavirus outbreak.
According to UK news outlets including Sky News and the BBC, queues had been forming early outside Primark and JD Sports stores.
Citing preliminary data from retail analyst firm Springboard, the Guardian reports footfall across all UK destinations is up 218.2% week-on-week with a 339.7% rise in shopping centres, 232.8% in high streets, and 58.2% on retail parks week-on-week.
Against 2019 data, footfall across all UK destinations is down 14.7%. Against 2020 data it is up 505.1% year-on-year.
Meanwhile, CEO of the British Retail Consortium Helen Dickinson says around GBP30bn (US$41.2bn) of in-store sales have been lost during the Covid-19 pandemic so far.
"It is vital that they are able to make their contribution to the UK's economic recovery.
"While we expect an initial surge in spending when shops first open, the real test will be how this holds up. Many of us will be looking forward to returning to our favourite shop in the coming weeks, and we all have a duty to keep each other safe. Everyone should be considerate and respectful to their fellow shoppers and hard-working shop staff. This way we can all enjoy shopping and support our local communities."
David Hannah, principal consultant at Cornerstone Tax, comments that over half of spenders plan to support independent traders and shops, according to research it conducted.
British retailer Monsoon has taken the reopening opportunity to deliver its new boutique store concept as part of a "refresh" centred on celebrating its heritage, craft and commitment to sustainability and ethical trade.
The new boutique store features a curated collection of Monsoon's women's product, childrenswear, and highlights from its homeware collection. The store will showcase the brand's new artisan collection, Artisan Studio, made from 100% organic cotton, sustainable Lenzing Ecovero and sustainable viscose georgette.
While the store is designed as a showcase for the Monsoon brand and product, it will also highlight and support the brand's charitable work through The Monsoon Accessorize Trust. When the store opens, 10% of the first month's profits will be donated to the Trust, which supports and empowers individuals from disadvantaged communities across Asia and helps drive sustainable change through a range of education, healthcare and income-generation projects.
Meanwhile, ShoreCapital analyst Clive Black says, for the consumer industries, there is "a material difference to the backdrop in the UK this time", which is that 31m people have now had their first vaccine to protect against the virus, with a further seven receiving the second dose.
"The pandemic will have considerable legacies for the British consumer system. We have seen a notable, maybe c5% reduction, in offline clothing capacity, for example, through the closure of stores including those of the Arcadia stable and Debenhams, share that the likes of Marks & Spencer, Next, and Primark (Associated British Foods), may see benefit arising. Store re-openings have the capability to trigger up the cash tills and clear some stock still in the system. We also sense scope, however, for (all things being equal) quite disciplined trading that could see a higher full-price sales quotient and more controlled promotional activity; Marks & Spencer particularly comes to mind here.
"With stores closed, there has also been the corresponding shift online, an online channel where many prior high street labels now habitat with, for example, Asos trading the Top Shop labels. Where the balance between offline and online rests will be important for retail economics going forward; we can, however, perhaps expect an easing of UK centric online non-food demand with the stores reopening in the forthcoming weeks."
However, the head of consumer research for ParcelHero David Jinks adds, while he is confident the UK high street will claw back some of its lost trade, the success of physical stores is down to how well they blend their in-store and online sales.
"There are some big wins to be had, for example, in areas such as click & collect and BOPUS (buy online, pick up in-store) that blend the convenience and security of buying online with driving footfall into stores.
"Only retailers that embrace their websites as their most important shop windows and ensure their online services match the standards of their in-store experiences will survive."