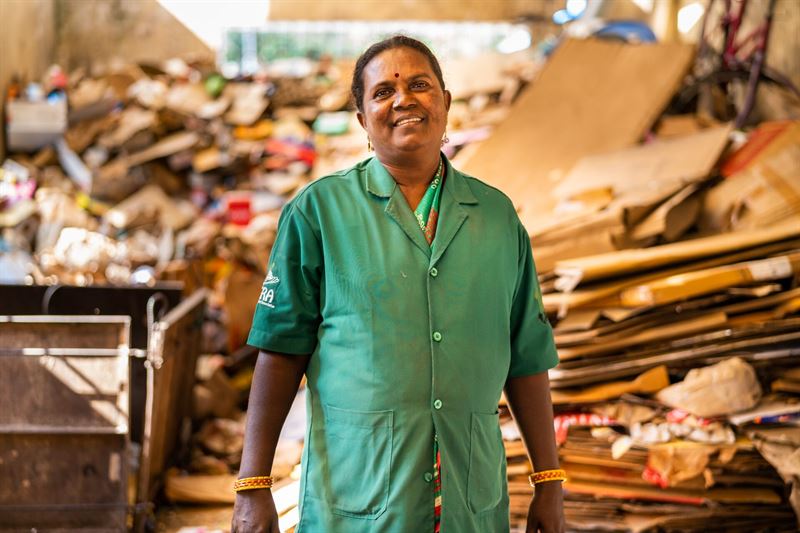 Together with an ecosystem of partners, the non-profit H&M Foundation launched the Saamuhika Shakti initiative in 2020 to address the gaps in the system that keep Bengaluru waste pickers in poverty and exclusion. Now, plastic waste collected by informal waste pickers is becoming a valued resource in the fashion and textile industry, providing a higher income and recognition as an integral part of the circular value chain, the organisation says.
It adds buttons partly made from the plastic waste are now featured on garments sold worldwide. The buttons are traceable down to the source of the waste along with names of the workers, social security, salaries and working conditions at the aggregation centre.
"Waste management and material recycling are fundamental components of a circular economy, but in order for it to be truly sustainable, it needs to include the very group of people that upholds this value chain in India – the informal waste picker community. If challenges related to waste pickers' lives and the waste sector can be addressed, waste pickers have the potential to be a key player in a global circular system – and could not only contribute to the health and state of our planet, but also uplift themselves out of poverty. We call it inclusive circularity,"says Maria Bystedt, strategy lead H&M Foundation.
Saamuhika Shakti aims to equip waste pickers to lift themselves out of poverty through a holistic ecosystem of organisations. Eight local partners are working together to support the waste picker community in various aspects – that the plastic waste pickers themselves have identified – such as safe working conditions, access to social services and good quality education, water and sanitation, up-skilling or access to alternative jobs, innovations in waste management streams that are inclusive and provide livelihoods to the waste pickers, a shift in the way the population think about waste pickers, as well as increasing economic opportunities, H&M Foundation explains.
The four-year programme (2020-2023) is funded by H&M Foundation with more than $11m and is said to have impacted around 20,000 plastic waste pickers, including their families.
With the fashion and textile industry working to shift business models from linear to circular, sustainable materials are in demand, and recycled plastic plays a vital part in creating a regenerative industry. H&M Group has now become a business partner with the social enterprise Hasiru Dala Innovations, placing orders for millions of buttons partly made from recycled PET bottles (rPET) sourced by waste pickers in Bengaluru. This has extended the social impact of Saamuhika Shakti and will further benefit the waste picker community by creating jobs and income opportunities. It is a stand-alone business partnership which is not subsidised by the funds from the non-profit H&M Foundation.
The buttons are partly made from post-consumer PET waste collected primarily by informal waste pickers in Bengaluru, who segregate the waste and sell the PET to Hasiru Dala Innovations which has received "Guaranteed Member Status" from World Fair Trade Organization. The PET waste is then flaked and washed and provided to two of H&M Group's button suppliers in India. The buttons are traceable down to the source of the waste along with names of the workers, social security, salaries and working conditions at the aggregation centre.
Shekar Prabhakar, co-founder and CEO of Hasiru Dala Innovations, adds: "Saamuhika Shakti were looking at how an economic intervention could also be brought into the programme and that is how they reached out to Hasiru Dala Innovations and facilitated the business relationship with H&M India.

"We are a for-purpose social enterprise that focuses on creating better livelihoods and entrepreneurship opportunities for waste pickers and informal waste workers. We provide this fair trade guaranteed plastic waste supply chain to the make these buttons – which creates opportunities for waste pickers to access the end-user market that would have been difficult to do by themselves. It's not just about recycling – it's about how we can create social impact through the process of using recycled waste. I think what is innovative is that this is a collaborative effort where multiple actors are focusing on the same community."
Last month, H&M Foundation and The Hong Kong Research Institute of Textiles and Apparel (HKRITA) unveiled cotton garments said to be able to capture CO2 from the air and release it as nutrition for plants.