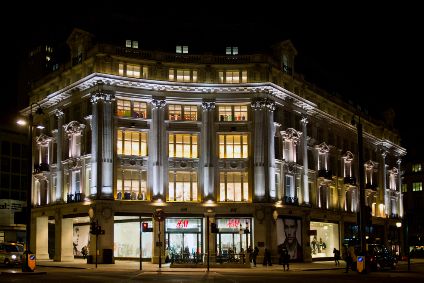 Swedish fast fashion retailer Hennes & Mauritz (H&M) saw its shares drop by nearly 6% yesterday (14 February) after revealing it expects comparable store sales to continue to slide this year, with a prediction of a 2019 rebound failing to reassure investors.
At its first Capital Markets Day in Sweden, the retail group said online sales amounted to SEK29bn (US$3.6bn) last year, representing around 12.5% of total sales, and are expected to increase by at least a quarter in 2018. Online sales account for 22% of H&M's earnings.
The retailer, which has seen sales growth stall in recent years, has struggled to compete against brands like Primark and Zara. It has been hit by the rise in online shopping, so has been ramping up its e-commerce business. It expects those sales to rise by at least 25% this year, but has forecast a lack of like-for-like sales growth.
The company is counting on its non-H&M brands such as Cos, Monki, & Other Stories, and Arket for growth. The new business unit made sales of around SEK17bn last year – 7% of total sales – and is expected to achieve growth of at least 25% per year up until 2022. H&M has been criticised in the past for its lack of transparency in revealing how much it makes in online sales and other brands.
Following a record sales decline in its fourth-quarter, the retailer also announced the creation of a new label, Afound, to sell marked-down clothing. It is also developing two separate and completely new business models, and will continue its investment in store refurbishments. The retailer is forecasting a return to comparable positive sales development from 2019, which it hopes will lead to a good increase in profit.
H&M's new business unit should see sales exceed SEK50bn by 2022 – growth of at least 25% – while online sales are expected to reach SEK75bn, representing growth of around 20% per year.