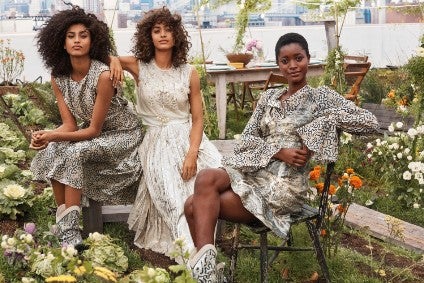 Swedish fashion retailer Hennes & Mauritz (H&M) has introduced three new sustainable materials – including leather alternative Piñatex – into the new spring 2019 collection from its eco-friendly Conscious Exclusive line.
Due to launch in select stores and online on 11 April, the latest H&M Conscious collection features women's clothing, swimwear, shoes, and accessories including a silver printed jacket made from pineapple leaf fibre, recycled polyester and polylactic fibre; a co-ord set made from recycled linen; and sandals made from a plant-based flexible foam using algae biomass.
The line sees the debut of Piñatex, a natural leather alternative made from cellulose fibers extracted from pineapple leaves; Bloom Foam, a plant-based flexible foam using algae biomass; and Orange Fiber, sustainable silk-like fabrics made from citrus juice by-products.
"For this collection, we explored the beauty in nature, which shows in the prints, as well as the flowy silhouettes, the striking color palette and the attention to detail. We're thrilled to introduce new plant-based sustainable materials to create high-performing, beautiful and fashionable pieces that are statement-making yet so easy to wear," says Ann-Sofie Johansson, creative advisor at H&M.
Last year, H&M introduced recycled cashmere and velvet into the first autumn/winter Conscious Exclusive collection.