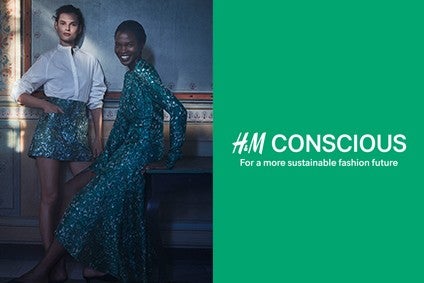 Swedish fashion retailer Hennes & Mauritz (H&M) has introduced new sustainable materials including recycled silver and Econyl, a 100% regenerated fibre from fishnets and other nylon waste, into the latest offering from its eco-friendly Conscious line.
Featuring accessories made from discarded candlesticks and dresses out of fishnets, the seventh Conscious Exclusive collection is designed to highlight the increasing possibilities of sustainable fashion with a focus on development and innovation.
The line also features Tencel, recycled polyester and organic linen.
While Econyl, a recycled polyamide yarn, has been woven into a delicate sheer fabric on the collection's white lace wedding dress, and made into a dark grey-blue lace long-sleeved mini-dress, recycled silver made from scrap metal with minimal environmental impact appears in the jewellery designed to go with the collection.
"The way the materials feature in our Conscious Exclusive collection shows how the latest technology can be incorporated with time-honoured techniques for spectacular results," says Ann-Sofie Johansson, creative advisor at H&M.
Conscious Exclusive is a driver in H&M's move towards a more sustainable fashion future. The retailer is also one of the world's biggest users of recycled polyester and one of the biggest buyers of organic cotton, working towards the goal that its cotton will be 100% sustainably sourced by 2020.
The Conscious Exclusive collection launches in selected H&M stores around the world, as well as online, on 19 April 2018.
Last month, H&M identified three action areas in the wake of a disappointing full-year and fourth-quarter performance, including further investment in its supply chain and the launch of a discount fashion site later this year.