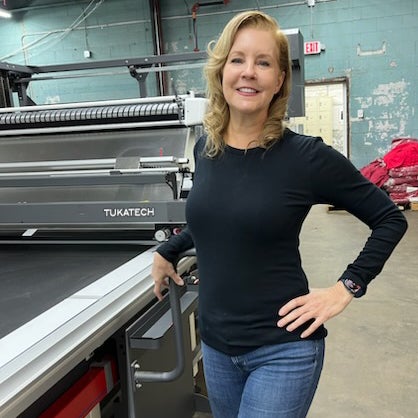 Hodges International, a leading provider of advanced textile manufacturing solutions, has announced the unveiling of its new TUKAcenter in North Carolina, USA. The centre is a result of a strategic partnership with Tukatech, a world-renowned provider of innovative software and hardware solutions for the fashion and apparel industries.
The TUKAcenter will provide a state-of-the-art technology platform for designers, manufacturers, and brands in the textile industry. Hodges International has attracted business from a variety of brands, wholesalers, and retailers and has partnered with brands, government, prisons, and national defence programs.
Deanna Hodges, founder and CEO of Hodges International, started the company in 2020 with the goal of bringing manufacturing back to the United States.
"It is such an honour to lead the charge to bring the cut and sew industry back to North Carolina and inspire a new generation of designers and sewing operators. Tukatech has proven its success globally and helped us create a facility that is extremely efficient and streamlined. We couldn't have partnered with a better technology solutions provider," she said.
The factory, also known as the Sparty Mill, is the first smart factory of its kind in North Carolina and is expected to create hundreds of new jobs in the region. It will also provide a platform for the development of new technologies and products.
Within a 147,000-square-foot complex, Hodges International boasts fully vertical manufacturing capabilities, from design and development to manufacturing of apparel and textiles, including circular knitting.
The TUKAcenter will feature Tukatech's cutting-edge software, hardware, and equipment, including the TUKAcad, TUKA3D, TUKAmark, and TUKAcut systems. These tools will enable designers and manufacturers to create and produce high-quality textile products efficiently and cost-effectively.
On behalf of Tukatech, Chris Walia chief operating officer added: "We are deeply inspired by Deanna's passion for 'Made in America.' Her commitment to bringing back manufacturing jobs to the United States is a wonderful opportunity, and an example that we hope others will follow."