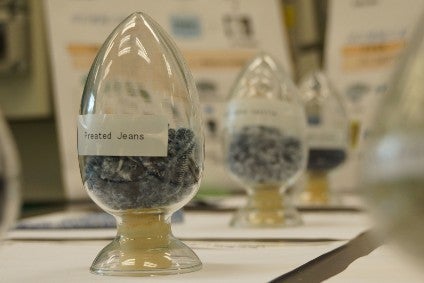 Two first-of-their-kind textile recycling facilities have opened in Hong Kong in a bid to accelerate research into a closed-loop economy and to speed up its development.
One of a number of projects being carried out by the Hong Kong Research Institute of Textiles and Apparel (HKRITA), the two openings, in collaboration with the non-profit H&M Foundation, include a new pre-industrial size facility that will produce recycled yarn from post-consumer apparel and a miniaturised Garment-To-Garment Recycling System that will demonstrate to consumers the entire garment-to-garment recycling loop.
Both facilities were opened yesterday (3 September) at a ceremony attended by the Hon Carrie Lam Cheng Yuet-Ngor, CEO of the Hong Kong Special Administrative Region (HKSAR), and Nicholas Yang, secretary for innovation and technology of the HKSAR.
In September of last year, one year into the four-year Closed-Loop Apparel Recycling Eco-System Programme, H&M Foundation and HKRITA presented a technological breakthrough with a hydrothermal method for recycling cotton and polyester blends into new fibres. Blends are the most common, yet unrecyclable, type of textile in the world.
Now, the new pre-industrial size facility scaling this technology will see fashion brands and stakeholders worldwide invited to see, test and implement this technology within their own operations. As a non-profit the H&M Foundation works to drive change for the global fashion industry, which is why HKRITA will license the results widely to make it available to all and enable a bigger impact.
"This is a significant step towards a new fashion industry that operates within the planetary boundaries. As we scale up and make this technology freely available to the industry, we will reduce the dependence on limited natural resources to dress a growing global population," says Erik Bang, innovation lead H&M Foundation.
"Seeing is believing, and when customers see with their own eyes what a valuable resource garments at end of life can be, they can also believe in recycling and recognise the difference their actions can make."
In addition, a miniaturised Garment-To-Garment Recycling System and retail shop selling the recycled garments has opened, located at the newly re-purposed former textile mill, The Mills, in Hong Kong.
An HK$700 million-plus redevelopment of three former Nan Fung cotton mills in Tsuen Wan, the creative hub features an art gallery, a textile industry museum, shops and restaurants, events and meeting places – as well as a fashion and wearables startup incubator and maker space that HKRITA will be running.
Crammed into an area of just 40 sq ft will be specially designed and fabricated machinery and equipment – essentially made smaller, faster and quieter – to directly recycle and make new apparel from old consumer supplied cast-offs.
Meanwhile, customers can bring their unwanted clothes, and watch the container-sized system recycle their garments and make new fashion.
"After successfully developing revolutionary recycling technologies, we have devoted sustained effort to put them into practice. Our recycling systems represent the industry's well-applied innovation efforts. These not only revitalise a decades-old major industry, but also do it most sustainably for the benefit of our community and as a responsible global citizen," says Edwin Keh, HKRITA CEO.
These projects, along with many others, will be centre stage at the upcoming 'Fashion Summit (HK) 2018,' a two-day event bringing together key players from the global fashion industry along with leading academics and NGOs to discuss the latest technology, best practice, solutions and opportunities in sustainable fashion. Taking place from 6-7 September at the Hong Kong Convention and Exhibition Centre, the theme of this year's Fashion Summit is 'Circular Economy.'
To read more about these projects, click on the following links: Hong Kong – the new hub for sustainable innovation, and Hong Kong to open first yarn mill in 50 years – Exclusive.