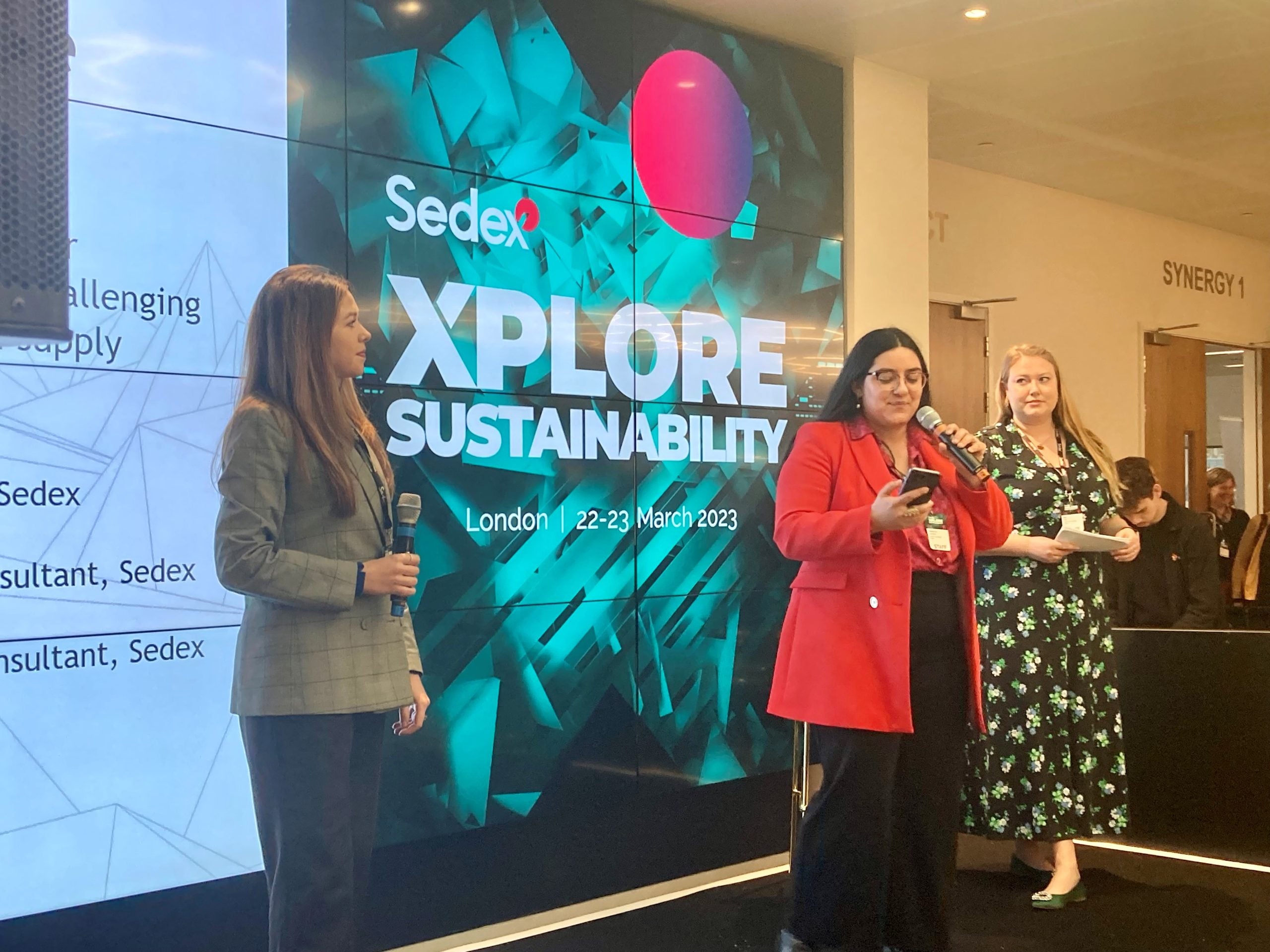 Consultants from supply chain data platform Sedex held a Q&A session at the Xplore Sustainability event to answer questions around Environmental, Social and Governance (ESG) in business.
A GlobalData survey shows that awareness of corporate ESG strategies remains low and faith in its effectiveness is declining. So what can businesses do to combat this while balancing everyday pressures?
Sedex's senior consultant, Francisca Sassetti, gave the assurance that "there is no such thing as perfection in sustainability – it's all about ongoing improvements. Businesses must continue to improve their practices over time and do it in a way that is adequate to the resources they have."
She offered four tips for those looking to implement sustainability into their businesses:
Learn from your peers, including competitors to understand what industry standards and best practice is. This should give you an idea of where you stand and what goals and targets you should work towards.
You don't need to assess every supplier and every risk. It's all about prioritisation and focusing your efforts to address the most salient risks, what is most material to your business, and higher risk suppliers, such as those operating in high risk regions, industries or with high risk commodities. Once you prioritise, you can focus your due diligence efforts.
Identify quick wins and long term goals. This could be obtaining a sustainable certification, implementing living wages in the supply chain or becoming carbon neutral.
Focus on internal engagement for results and value for money. Your employees are a big drive for responsible sourcing and sustainability. It's not just procurement teams, but also site, sales, HR, and marketing teams – anyone in the organisation can be a promoter of your values.
While encouraging, business owners in the audience still had pressing questions about how to turn ESG from an abstract goal into practical realisations.
How do we know if we're unintentionally greenwashing?
Bex Hall, head of consulting for Sedex defined greenwashing as "where companies make claims that aren't completely representative of reality or use language that can be misleading". She highlighted three main questions that business owners can ask themselves:
Look at the language you're using. How would someone who's not familiar with the topic understand what you've said?
What evidence do you have to back up claims – not just from your own business, but also from suppliers? For example, understanding what evidence a packaging supplier has to show that recycled plastic is from recycled materials.
If someone were to probe you with a question about how your business is green, what data do you have to substantiate that?
"It's fantastic when organisations want to be proud of the work they're doing. We encourage reporting on ESG in marketing and communications with stakeholders. It can also benefit your relationship with customers."
However, she emphasised that the risks of claiming to be sustainable without substantiation are now higher than ever, leading to reputational damage and legal repercussions, which can result in fines.
How can we stay on top of responsible business laws?
Principal consultant for Sedex, Miranda Murphy, confirmed that smaller businesses are also affected by wider laws and need to understand their obligations and what data needs to be prepared. Three pieces of advice were offered:
Map your supply chain and operations, and understand where your tier one suppliers are sourcing from.
Identify some trusted resources that have information that speaks to you as a company, relevant to your size and industry. Government agencies and legal resources are a good place to start, to understand the laws and key pieces of legislation.
Check the milestones that the regulators have published and when they are going to revisit and update the laws. Put those milestones in your team planner.
This is key for apparel businesses, as the sector will face global mandatory sustainability reporting standards in 2023.
"The secret is, even companies with few resources can be more responsible and sustainable," Murphy advised. "It's important to focus your efforts. As a business, you're not supposed to take on all the challenges around climate change and sustainable consumption. It's about picking your battles and seeing where your business can have the biggest impact."