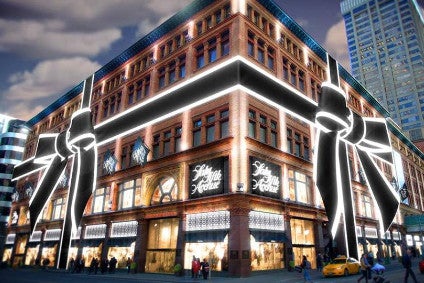 Canadian retailer Hudson's Bay Company (HBC) says it knows it can do better after posting results that failed to meet expectations in the third quarter.
In the 13 weeks ended 28 October, net losses almost doubled to CAD243m (US$184.7m) from CAD125m in the prior year. The retailer said the higher loss was primarily due to lower gross margin dollars combined with higher finance costs, higher depreciation and amortisation expenses, and a lower income tax benefit.
Retail sales amounted to CAD3.16bn, a drop of CAD140m or 4.2% from CAD3.3bn a year ago. HBC said the decrease was driven primarily by lower overall comparable sales of about CAD104m and negative foreign exchange impacts of CAD64m. In addition, closed stores had a CAD34m negative impact on overall sales. These impacts were partially offset by the opening of new stores, which added about CAD61m in sales during the quarter.
On a constant currency basis, comparable sales increased by 0.2% at Saks Fifth Avenue while declining by 3.7% at DSG, 7.6% at HBC Off Price and 3% at HBC Europe, resulting in an overall consolidated comparable sales decline of 3.2%. HBC said lower traffic , higher promotional activity, operational challenges and the effects of the hurricanes in Texas, Florida and Puerto Rico were to blame. Digital sales meanwhile, increased by 2.1% from the prior year.
"We are making the necessary changes in our retail operations to drive performance across our banners, and took dramatic steps during the third quarter to continue the transformation of HBC and ensure that we are well positioned to succeed in a rapidly evolving retail environment," said interim-CEO Richard Baker.
During the period, the company announced a series of transactions with WeWork Companies and private equity firm Rhône Capital – including the sale of its Lord & Taylor Fifth Avenue flagship – to monetise the company's real estate assets.
It has also recently agreed to create a Lord & Taylor flagship on Walmart.com as part of plans to extend its digital business.
And former CEO Jerry Storch stepped down on 1 November amid a restructuring effort at the retailer designed to generate more than CAD350m (US$282.6m) in savings.
According to CFO Ed Record, the Transformation Plan remains on track – although he admits more remains to be done.
"While Saks Fifth Avenue and Hudson's Bay are performing well, our overall third-quarter results did not meet our expectations. The workforce reductions made as part of our Transformation Plan caused some operational challenges, particularly in our digital business, which we are working to address.
"We know we can do better, and our highest priorities include increasing comparable sales, improving margins, and prioritising our capital investments as we focus on further developing our digital business. We also plan on reducing total inventory as part of an effort to moderate promotional activity and increase full price selling."