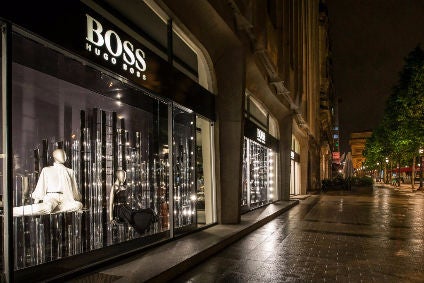 German fashion brand Hugo Boss remains optimistic on the year ahead, having reaffirmed its guidance sales and earnings outlook despite a double-digit drop in first-quarter profit.
For the three months, net income fell 32% to EUR34m (US$37.9m), falling 32% from EUR50m a year earlier. Stripping out the effects of the first-time application of IFRS 16, net income was down 22% to EUR39m. Gross profit margin narrowed slightly, down 20 basis points to 63.8%, as a result of negative currency effects related to the appreciation of the US dollar against the euro.
While group sales were up 1% to EUR664m, there were "significant" regional differences. In the Americas, the challenging US market and strong comparisons with the prior year in particular led to a currency-adjusted sales decline of 8%; while currency-adjusted sales in Asia increased by 4%. And in Mainland China, where Hugo Boss recorded double-digit growth on a comp store basis, the momentum of previous quarters continued.
In Great Britain, the group once again achieved double-digit retail sales growth, adjusted for currency effects. Business in Germany was "stable" and in total, sales in Europe were up 2% compared to the prior year.
"The ongoing momentum in our strategic growth market China and in the important online business shows that our strategy is taking effect," said CEO Mark Langer. "At the same time, the US market proved to be weaker than expected. Moreover, investments in the digitisation of our business model and in the organisational structure weighed on our operating result in the first quarter.
"However, they will help us to further accelerate important operational processes and to significantly improve our cost efficiency in the current year. I am very confident that we will achieve our targets for the full year and beyond."
Looking ahead, Hugo Boss confirmed its financial outlook for the full year, anticipating an increase in group sales in 2019 at a mid-single-digit percentage rate on a currency-adjusted basis.
Click here to read just-style's recent interview with Hugo Boss's director of global sustainability, Andreas Streubig.