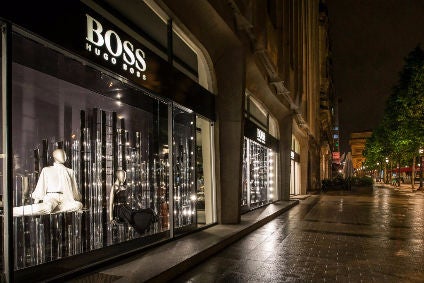 German luxury fashion brand Hugo Boss has seen profitability return to positive territory in the third quarter, despite a year-on-year fall of almost a quarter in overall revenue.
For the three months to the end of September, group sales fell to EUR533m (US$623.7m) from EUR720m last year, representing a currency-adjusted decrease of 24%. In the reporting currency, the drop in sales was 26%.
Own retail sales decreased 20%, while online growth continued unabated with sales surging 66%. Hugo Boss said the increase was driven by the increasing shift in customer demand towards digital offers and the expansion of hugoboss.com into 24 additional markets in June and August.
The three months to September also marked the twelfth consecutive quarter of double-digit online growth.
While the recovery of business in all three regions continued in the third quarter, the upturn was most pronounced in the Asia/Pacific region with a sales decline limited to 14%. The Chinese mainland once again developed particularly well, with a currency-adjusted increase in sales of 27%. Hugo Boss recorded significantly better conversion rates in stationary retail on the Chinese mainland as well as high double-digit growth in online sales. At the same time, a reduction in local demand supported the positive development.
In Europe, currency-adjusted sales were 21% below the previous year's level, with noticeable recovery in local demand in key markets such as Great Britain and France. At the same time, the sharp decline in international tourism also weighed on business.
In the Americas, the currency-neutral sales decline was 41%. There, the negative effects of the pandemic continued to weigh on the group, both in its own retail and wholesale business.
Despite the general decline in sales, the group's operating result (EBIT) was positive again in the third quarter at EUR15m. This compares to EUR83m last year and an EBIT of minus EUR250m in the second quarter.
The group said profitability returned to positive territory on the back of strict cost management and the successful implementation of cost reduction measures.
"On the basis of its generally strong financial position, Hugo Boss will continue to focus fully on continuing the upturn in its business. In the important final quarter of 2020, the company will consistently exploit its global sales opportunities, especially with a view to its strategic growth drivers online and China," Hugo Boss said.
The group has pivoted its product range of late with a focus on casual and leisurewear. Its Boss spring/summer collection highlighted a "much sportier and younger version" of the brand, while in September, sales of a Boss menswear capsule designed in collaboration with British boxer Anthony Joshua began.
The label has also partnered with American sportswear brand Russell Athletic on a capsule collection, available from March 2021, which includes clothing as well as shoes and accessories, and once again has a clear focus on casual and athleisurewear.
Casualwear push
Sofie Willmott, content head of apparel at data and analytics company GlobalData, notes despite top-line sales remaining firmly in negative territory over the summer, Hugo Boss's performance has improved significantly on Q2 driven by continued strong growth online, alongside the benefit of most stores re-opening.
"Q2 online sales rose 74% on the previous year and the retailer successfully maintained momentum in Q3 with online growth barely slowing, helped by its website shipping to an additional 24 new markets in June and August. In addition, the premium brand has shifted its focus towards casual clothing highlighting its smarter sports-influenced streetwear, as opposed to the formal suits and shirts it is traditionally known for, increasing its appeal and relevance in the current climate."
The apparel sector is forecast to be the hardest hit area within retail this year with consumers cutting back on clothing and footwear purchases deemed less essential considering increased home working and a lack of social occasions.
"Like other retailers benefitting from the country's rapid recovery, China has been a ray of light for Hugo Boss with Q3 sales rising 27%, however, given APAC only accounts for 14% of total sales, it is not enough to protect total performance," Willmott says. "As over two-thirds of Hugo Boss's sales are generated in Europe, the retailer is set for a challenging Q4 as many of its key markets re-impose nationwide lockdowns including the closure of non-essential stores, namely France and the UK."
She adds although the impending peak season will not generate the boost clothing brands are used to at this time of year, Hugo Boss has wisely pivoted its product range to ensure it is desirable to its customer base while also making moves to attract new shoppers.
"In September it broadcast its spring/summer 2021 collection as part of Milan Fashion Week on various digital channels including TikTok and WeChat and following the show, offered shoppers in China 48 hours to buy into a limited collection with New York artist and designer Justin Teodoro.
"The retailer has also launched ranges with model Caro Daur and boxer Anthony Joshua, with a collaboration planned next year with sports brand Russell Athletic. Hugo Boss's efforts to evolve its product offer despite the uncertainty of trading conditions will ensure it remains desirable and its increasing digital focus will help to boost brand awareness as consumers continue to spend more time online."