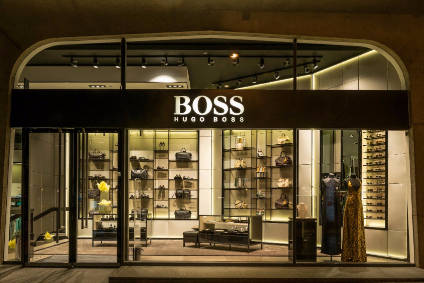 Shares in Hugo Boss have increased this morning (21 January) as the German luxury fashion brand has achieved its adjusted targets for the 2019 financial year thanks to a "significant" increase in sales and earnings in the final quarter.
In a statement, Hugo Boss said on a preliminary, unaudited basis, it has achieved full-year sales of EUR2.9bn (US$3.2bn). This corresponds to an increase in reporting currency of 3% compared to the previous year. On a currency-neutral basis, the increase was 2%.
Subject to the ongoing annual financial statements, the group said it expects operating profit (EBIT) will be EUR333m, excluding the effects of IFRS 16. While the figure is down by 4% on the previous year, it is line with guidance provided in October for EBIT to come in between EUR330m and EUR340m.
Looking to the fourth quarter, provisional consolidated sales increased 4% on a currency-neutral basis. In group currency, this corresponds to an increase of 5% to EUR825m, up from EUR783m a year ago.
Hugo Boss said in Europe in particular, sales momentum accelerated.
Thanks to double-digit growth in the United Kingdom and France, currency-neutral sales in the region increased by 8%. In Germany, an increase in sales in own retail was not able to fully compensate for a still difficult wholesale business.
In the Asia/Pacific region, fourth-quarter currency-neutral sales rose 4%, primarily due to the continued uninterrupted growth in sales in mainland China where the company again achieved significant double-digit growth. The Hong Kong environment, however, remained "extremely difficult" as expected, while the persistently challenging market environment in the United States and Canada continued to weigh on sales.
Meanwhile, in-store retail sales increased by 7% on a currency-neutral basis. On a like-for-like and currency-adjusted basis, growth accelerated to 3%. Growth in online sales surged to 52% in constant currency.
"We can look back on a gratifying fourth quarter. Thanks to a significant increase in sales and earnings in the final quarter, we achieved our adjusted targets for the 2019 financial year," said CEO Mark Langer. "I am particularly optimistic about the progress made with our key strategic growth drivers online and China. We will continue to work consistently on sustainably increasing the desirability of our Boss and Hugo brands and ensuring profitable growth for our company."
Shares in the company were up by more than 6% at the time of writing.
The group will publish its final results for 2019 and its financial outlook for the new fiscal year on 5 March.