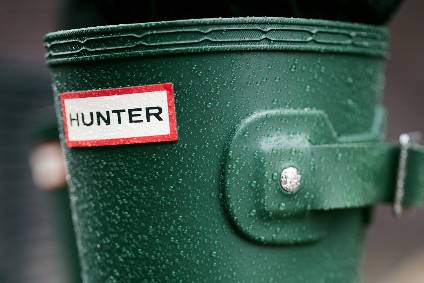 Global footwear and outdoor lifestyle brand Hunter Boot Ltd has secured GBP18.5m (US$23.2m) in funding to help it withstand the economic pressures of the Covid-19 crisis, and to support future growth.
The British brand said today (2 June), it has successfully recapitalised the business, led by existing shareholder, Pall Mall Legacy, and supported by Searchlight Capital, Pentland, and other minority shareholders.
"While the retail sector across the globe faces huge challenges presented by the Covid-19 pandemic, we are extremely fortunate to have the support of our stakeholders, enabling us to successfully strengthen our balance sheet," says Gordon McCallum, chairman of Hunter. "This will ensure that we are able to withstand the current market downturn and emerge even stronger, to grow the iconic and much-loved Hunter brand over the long term."
As part of the recapitalisation, existing lender Wells Fargo will augment and extend existing financing arrangements for a further three years. As a result, Hunter will have the benefit of an additional GBP18.5m of capital, to support future growth.
Founded in 1856, Hunter is a multi-channel, multi-geography business with a broad consumer reach. In recent years, the company's e-commerce business has grown strongly, generating about 30% of global sales, positioning Hunter well to drive future growth.
The company says the recapitalisation will strengthen its balance sheet, with the aim of "withstanding the economic pressures of the current global Covid-19 crisis" as well as to sustain it for the foreseeable future.
Pall Mall Legacy, a Goldman Sachs-backed investment vehicle managed by Three Hills Capital Partners, will invest new capital to become the majority shareholder of Hunter, with Searchlight Capital investing additional funds and retaining a significant minority position and board representation. Pentland Group will retain a minority shareholding and board seat. Pall Mall, which first invested in Hunter in 2018, intends to bring new strategic and operational support to Hunter's management through its team of senior retail industry professionals.
"Very few British brands have gained such a notable presence in the UK, Europe, Japan and the US," Pall Mall says. "Hunter boots are synonymous will quality and innovation, while also appealing to premium fashion-driven consumers. Since our original investment in 2018, we have been long-term believers in the potential for Hunter and continue to see great opportunities ahead."