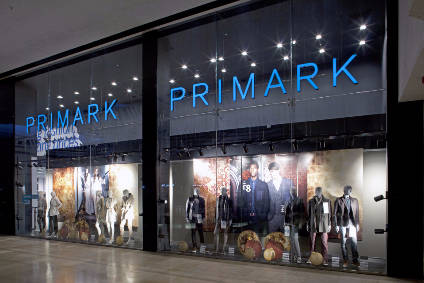 Value fashion retailer Primark has sounded an optimistic note for the first half of the financial year as a 0.3m sq ft increase in selling space is expected to drive revenue in the period.
Sales are forecast to be 4% ahead of last year in the for the 24 weeks to 2 March, the clothing giant's parent company Associated British Foods (ABF) noted in a trading update today (25 February).
The firm added 364 Primark stores will be trading from 15.1m sq ft compared to 14.3m sq ft a year ago, but noted revenue growth will be partially offset by a 2% decline in like-for-like sales.
Meanwhile, with a much higher margin, profit is expected to be "well ahead" of the same period last year, with early trading of the new spring/summer range seen as "encouraging".
ABF said the retail chain continued to perform well in the UK, substantially increasing its share of the total clothing, footwear and accessories market, with sales 2% ahead of last year. Cumulative like-for-like sales have improved since the January trading update, while the effect of low footfall in November was offset by good trading in all other months. Like-for-like sales are expected to be level with last year in the first half.
Sales in the Eurozone, meanwhile, are tipped to be 5% ahead of last year, with particularly strong sales growth in Spain, France, Italy and Belgium. Like-for-like sales in the region, however, are expected to show a decline of 3%.
ABF added it has strengthened management in Germany and plans "focused marketing" to address trading in the country which continues to be difficult. In addition, preparations are underway to reduce selling space at a small number of German stores in order to optimise their cost base.
Overseas, the firm said its business in the US continues to perform strongly, driven by "excellent trading" at the recently opened Brooklyn store combined with like-for-like sales growth. This, coupled with the benefit to store profitability arising from the reduction in selling space at Freehold and Danbury last year, has much reduced the US operating loss.
As expected, the effect of a weaker US dollar on purchases contracted for the first half benefited input costs. With better buying, tight stock management and reduced markdowns, operating margin for the first half is consequently expected to be well ahead of last year, ABF said.
The group added foreign exchange contracts are now in place for the majority of the remaining purchases for the year and the strengthening of the US dollar will result in a lower operating margin in the second half. As a result, the group's expectation for full-year operating profit is unchanged.
Looking ahead, ABF expects to open 0.9m sq ft of new selling space in this financial year, with a net 0.4m sq ft of additional selling space planned for the next quarter, with new stores in Hastings, Bluewater, Belfast and Milton Keynes in the UK, Bordeaux in France, Brussels in Belgium, Wuppertal in Germany and Utrecht in the Netherlands. Its smaller store in Oviedo, Spain will close and selling space will be reduced in the US store at the King of Prussia mall in Pennsylvania. In April, the group's Birmingham store will relocate to new premises which, at 160,000 sq ft, will become its largest location.
In addition, the first Primark store in Slovenia will open in the summer in Ljubljana and, following the signing of the lease for the first store in Poland, ABF has now signed the lease for its first store in the Czech Republic, which is in the city centre of Prague.
Physical expansion is Primark's saving grace
Kate Ormrod, lead analyst at GlobalData, notes like-for-like revenue growth remained a challenge for Primark in the first half, with physical expansion the sole reason for its 4% growth forecast in the period.
"While on a positive note H1 profit is expected to have excelled compared to the prior year, owing to tighter stock management and buying in at a weaker US dollar rate, the first half has proved tough for the retailer, not least owing to difficult trading in November. With early responses to its spring/summer range cheering, Primark will be hoping to accelerate growth in H2," she adds.
ABF will release its interim results for the 24 weeks to 2 March on 24 April.