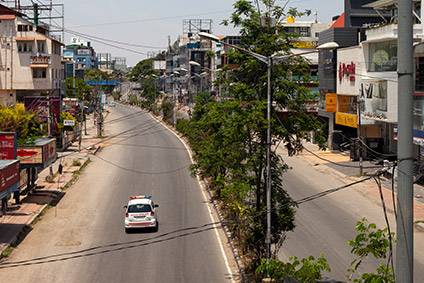 An Indian clothing supplier to international brands has told just-style of the challenges it faces as it starts to emerge from the near complete lockdown that prevented work being completed on summer collections.
On 4 May, several state governments allowed local clothing manufacturers to restart work until 17 May, when fresh guidance is anticipated. Manufacturers are assessing what is left of their order books and how they can respond, which is not a simple task.
One company that has started reopening is the Trend Setters Group in Gurugram, near New Delhi. Its managing partner Sudhir Sekhri told just-style: "A few brands with international presence, like Zara Kids of the Inditex Group, have thankfully given a go-ahead on their existing orders for June and July delivery that were put on temporary hold in March.
"However, a large part of orders from some other brands remain cancelled and payments against shipped merchandise have also not been received in full." Some brands only reduced their orders and have since offered to cover fabric purchases made by the company for the cancelled portion, Sekhri adds. "The situation is a wee bit better [in comparison to a month ago] but we are still not out of the woods."
Trend Setters' first task is to complete garments left half-made when the Indian government first imposed a Covid-19 lockdown on 24 March, which effectively closed the country's clothing and textile manufacturing sector.
"There are cut-pieces, semi-stitched and fully-stitched but unpacked garments in the factory," says Sekhri, "Even though orders for some of the work-in-progress are cancelled, we have no option but to stitch and pack them with the hope to extract some, albeit marginal, value," by selling them onto the domestic market.
Productivity will not be at normal levels, because the shop floor has been rearranged to ensure workers are stationed at mandatory social distances of one metre. As a result, "we can accommodate less than 70% of our licensed capacity of 1,350 workers." That said, Trend Setters has yet to collect this number of its workers together, as many travelled to their traditional village homes when the factory was closed.
Moreover, supply chains are still gummed up, with most textile mills and finishing houses still closed – so the company can only work with fabric in its warehouse or in transit, Sekhri explains. That is enough to last one month, but if remaining lockdown restrictions do not end soon, "there will be problems in keeping our factories running."
Another concern for the company is restrictions on inter-state travel within India, forcing Trend Setters to rent hotel rooms for managers who usually commute to the company's Haryana state base from the next door capital region of Delhi.