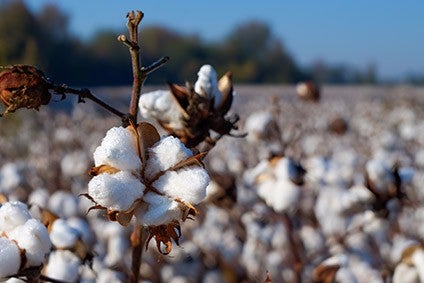 India is set to overtake China as the top cotton producer in the 2019/20 season according to new figures from the US Department of Agriculture.
The USDA's latest 'Cotton and Wool Outlook Report' suggests global cotton production is set to expand in 2019/20 with its initial projection for the 2019/20 world cotton crop being 125.5m bales, 6% higher than the 2018/19. Modest increases foreseen in both global cotton harvested area and yield together support the higher production estimate, the USDA says.
Meanwhile, India is expected to regain the top-producer status in 2019/20, surpassing China, which became the leading cotton producer in 2018/19. For 2019/20, India's cotton area is forecast to rise slightly to 12.35m hectares, as price expectations remain favourable for cotton – with production rising by 3m bales to 28.5m bales.
China is forecast to produce 27.75m bales of cotton in 2019/20, equal to the previous season, with a slightly lower area is offset by a higher yield expectation.
Global cotton consumption is forecast at a record 125.9m bales in USDA's initial 2019/20 projection, 2.6% above the 2018/19 estimate.
Cotton consumption is led by China, India, and Pakistan, with a combined 2019/20 mill use forecast at 77.5m bales, or 61.5% of the world total. Increases are also forecast for Bangladesh, Vietnam and Turkey in 2019/20.
World cotton trade in 2019/20 is forecast at approximately 45.3m bales, 8% above the previous season and the highest in seven years. Higher trade expectations are projected as mill use in import-oriented countries, like Bangladesh and Vietnam, remain strong and prospects increase for China to import more cotton in 2019/20.
Projections for exports by country indicate that the US and Brazil will benefit the most from increased trade as supplies increase in both countries.
But with global cotton consumption forecast to exceed production, 2019/20 world ending stocks are expected to decrease slightly. Stocks in 2019/20 are projected at 75.7m bales, 780,000 bales below 2018/19.
Free Whitepaper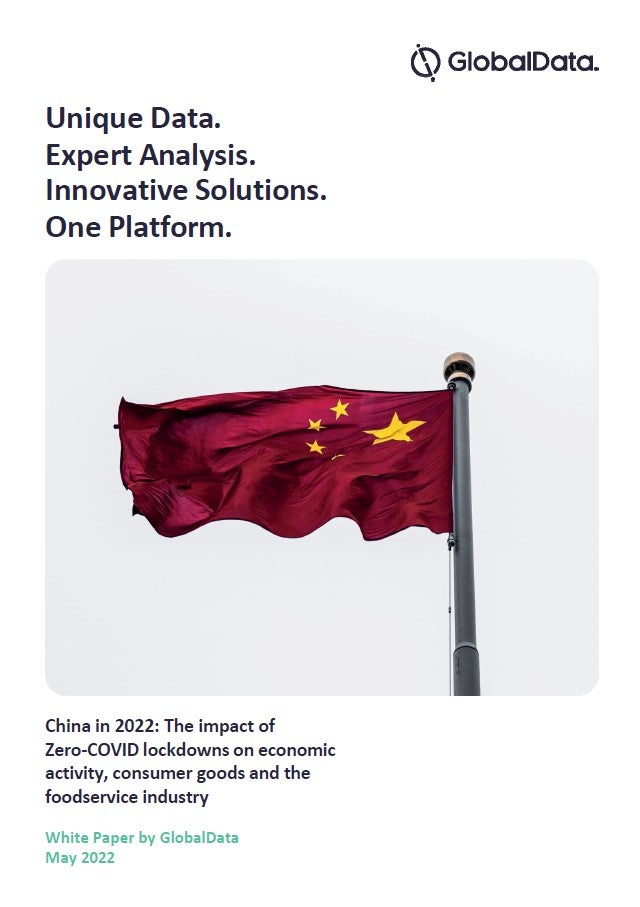 What is the impact of China's Zero-COVID lockdowns on economic activity, consumer goods and the foodservice industry?
While wanting to protect the country from being overwhelmed by Omicron, China's adherence to a Zero-COVID policy is resulting in a significant economic downturn. COVID outbreaks in Shanghai, Beijing and many other Chinese cities will impact 2022's economic growth as consumers and businesses experience rolling lockdowns, leading to a slowdown in domestic and international supply chains. China's Zero-COVID policy is having a demonstrable impact on consumer-facing industries. Access GlobalData's new whitepaper, 
China in 2022: the impact of China's Zero-COVID lockdowns on economic activity, consumer goods and the foodservice industry
, to examine the current situation in Shanghai and other cities in China, to better understand the worst-affected industry sectors, foodservice in particular, and to explore potential growth opportunities as China recovers. The white paper covers:
Which multinational companies have been affected?
What is the effect of lockdowns on foodservice?
What is the effect of lockdowns on Chinese ports?
Spotlight on Shanghai: what is the situation there?
How have Chinese consumers reacted?
How might the Chinese government react?
What are the potential growth opportunities?
by GlobalData