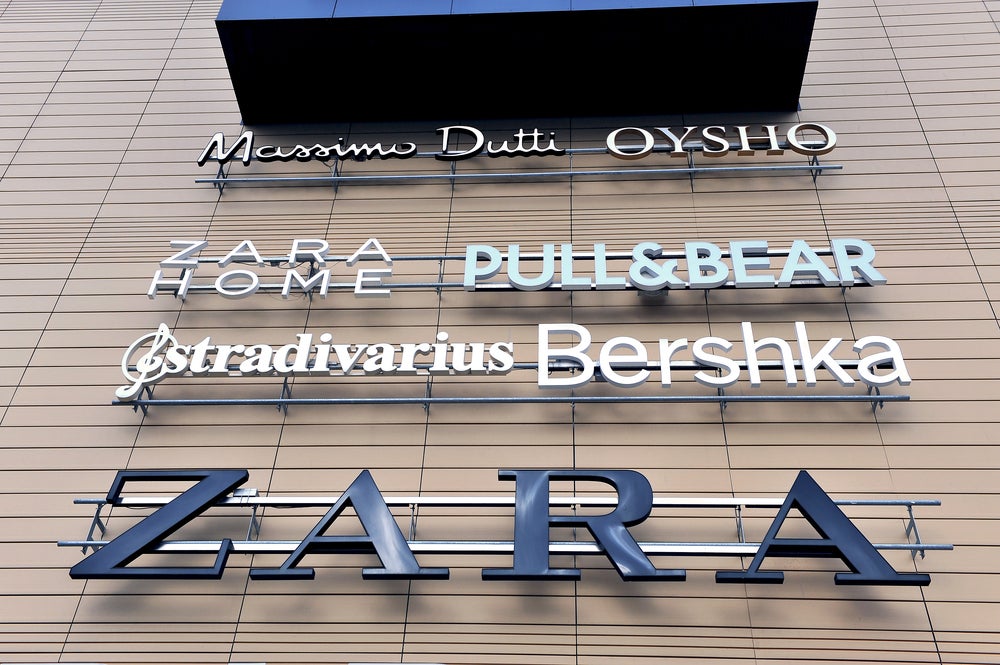 Inditex, which also owns Bershka, Pull & Bear, Oysho and Massimo Dutti, increased its prices back in 2022 but now finds itself in a stronger financial position and cited the increase in revenue to the execution on its business model and a "very satisfactory development both in stores and online."
Its brands saw double-digit growth, with Oysho and Massimo Dutti being the front runners reporting growth of 18.3% and 16.8%.
The group's biggest brand Zara, saw an increase of 13.1% to €12.36bn ($13.3bn), delivering a large percentage of Inditex's revenue for the six-month period.
Inditex CEO Oscar Garcia Maceiras commented: "The 1H2023 results demonstrate that the talent of our teams continues to consolidate the improvements in the performance of our business model."
Inditex H1 results overview:
Sales grew 13.5% over 1H2022 to reach €16.9bn
Gross profit increased by 14.1% year on year to €9.8bn
EBITDA increased 15.7% to €4.7bn
Net income increased 40.1% to €2.5bn
Inditex enhanced its inventory levels through a "robust operating performance" and the stabilisation of supply chain conditions, resulting in inventory levels that were 6.9% lower as of 31 July compared to the previous year.
Looking forward the group said its autumn/winter collections have also been well received and continue to see strong growth opportunities.
"The ongoing commitment to creativity, quality and customer experience, as well as the determined progress in sustainability, drives a strategy that is taking our business to the next level," said Maceiras.
Inditex remains go-to fashion destination thanks to its inspiring proposition, says GlobalData
Alice Price, apparel analyst at GlobalData, a leading data and analytics company, offers her view:
"Inditex continues to dominate in the fashion market, with sales in H1 FY2022/23 rising 13.5% to €16.9bn, sitting 32.0% ahead of pre-pandemic levels. This is in stark contrast with the H&M group, which saw sales for the six months ending 31 May 2023 only marginally surpass 2019 performance, demonstrating Inditex's superior ability to remain versatile and quickly respond to evolving trends. Inditex's momentum has continued at the start of H2, with the group reporting a strong reception to its AW23 offering, with total sales between 1 August and 11 September up 14% in constant currency, pointing to a continued strong performance for the latter half of the year.
"Sales growth was achieved across all regions, however Spain and the rest of Europe's sales mixes increased by 0.2ppts and 1.5ppts respectively, demonstrating the resilience of the group's offering during economic uncertainty. The same trend was not experienced in the Americas though, which is suffering from a step back in consumer spend in the US, with many shoppers likely turning to cheaper options such as Shein and Target. APAC's sales mix also declined as local brands and luxury players continue to take market share.
"Zara (including Zara Home) revenue increased 13.1% to €12.4bn, representing 39.0% growth versus H1 FY2019/20, thanks to its comprehensive inclusion of different styles and trends allowing it to appeal to a broad demographic. Despite outperforming yearly revenue growth of 16.8% thanks to its integration of more pared back styles, Massimo Dutti remains the group's most lacklustre brand, with revenue still marginally behind pre-pandemic, as the brand has been less receptive to evolving with the changing fashion landscape. Oysho saw the strongest sales growth on the year, with revenue increasing 18.3%, likely driven by its strong swimwear proposition, as demand for the category continued to rebound with the return of holidays, though it will have also benefitted from continued interest in athleisure.
"Despite the group reducing its store count by almost 10% over the past year, its focus on store optimisation through enhanced designs and technology to streamline the experience has enabled its sales to maintain momentum while reducing overall overheads, with the group anticipating instore productivity to continue to grow. Inditex also states that is has seen a "very satisfactory" performance in online, with its digital penetration continuing to grow, though the fact it did not disclose growth indicates the channel has slowed significantly as spend has shifted back to stores."
Inditex recently set a target of reducing its environmental impact by 2030 and planned to ramp up its adoption of recycled fibres and fibres from sustainably sourced crops.