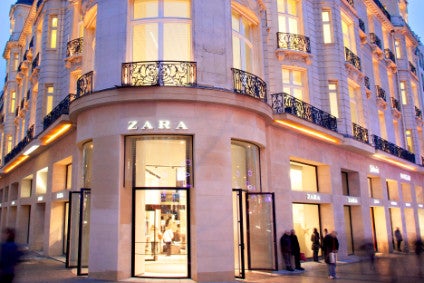 Spanish clothing giant Inditex booked increases in both earnings and revenues in the first nine months of the year as the group continues to roll out its global, fully integrated store and online platform.
Posting its interim nine-month results today (13 December ), Inditex said net income in the period to 31 October totalled EUR2.3bn (US$2.7bn), a 6% increase on earnings of EUR2.2bn a year earlier.
Net sales were up 10% to EUR17.96bn from EUR16.4bn in the prior year, while gross margin narrowed to 57.4% from 57.9% last year.
The company said like-for-like sales growth remains strong while global online sales launches are on track, with Zara having launched online in India in October, taking the total for Inditex to 45 markets. Meanwhile, Bershka's online platform also went live in the US.
In addition, store and online sales in local currencies have increased by 13% from 1 November to 11 December 2017.
Other highlights during the nine-month period include the launch of Zara, Bershka, Massimo Dutti, Pull&Bear, Stradivarius, Oysho and Zara Home in Belarus in August to what the group called a "very warm reception". Inditex also rolled out same-day delivery in six cities and next-day delivery in six markets, including Spain, France, the UK and China.
The group now operates 7,504 stores in 94 markets, including in the US, Vietnam, China and Turkey.
Looking ahead, the group says the autumn/winter season is influenced "significantly" by the performance over both the Christmas period and the after-Christmas sales period, due to their sales volumes. It will release its full-year results (1 February to 31 January) on 14 March 2018.
The third quarter also marked the tenth anniversary of Inditex's Global Framework Agreement (GFA) with the IndustriAll global union, signed to protect and promote labour conditions throughout the retail giant's entire supply chain.
The group also met with the International Labour Organization (ILO) to monitor the joint projects underway.