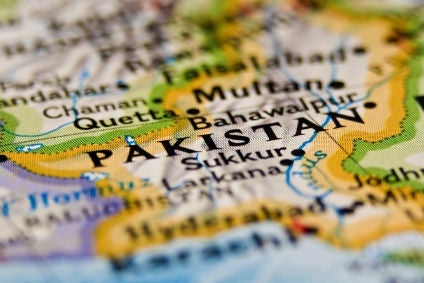 Spanish clothing giant Inditex has opened a buying office in Pakistan in a move that could double its imports from the country.
Jose Manuel Romay de la Colina, a representative of Inditex Group, recently met with the Embassy of Pakistan's Commercial Counsellor, Muhammad Hamid Ali, in Spain to officially confirm the opening of its maiden buying house in the country. The offices are located in the city of Karachi.
"We have been successful in attracting Inditex Group of Spain, comprising of eight internationally renowned brands (Zara, Massimo Dutti, Pull & Bear, Bershka, etc.), which has opened its buying house in Pakistan for first [the] time ever," Hamid Ali said in a statement. "This will go a long way in furthering Pakistan's exports to Spain significantly, and also in realising further technical collaborations in the field of textiles and design."
Pakistan's exports to Spain reached US$485m in the first five months of the 2017-18 financial year and is expected to reach $550m once data from December 2017 is included.
The European Union (EU) is Pakistan's largest export market for apparel, accounting for over 18% of total exports. The country has benefited from GSP+ duty-free access to EU markets since January 2014.
In terms of total exports, Spain represented the largest increase from countries within the EU at around 5% in 2016 from the year before.
"I am sanguine that for the first time in Pakistan and Spain's bilateral trade history, our exports to Spain will cross the $1bn mark during the current financial year," Hamid Ali added. "Similarly, it will also cross $1bn as per the financial year for Spain, which is from January 2017 to December 2017. With growing interest from our businesses in Pakistan and Spain, trade and investment between the two countries will further improve exponentially."
After witnessing slow growth over the last few years, outbound shipments of textile and clothing recovered by 8% to $6.64bn in the first half of the current fiscal year as exporters availed of the government's incentives to boost exports, according to The International News Pakistan.
The government, however, has placed more expectation on the export of textiles – which accounts for more than 60% of Pakistan's total annual exports – to achieve its $25bn target by year-end.