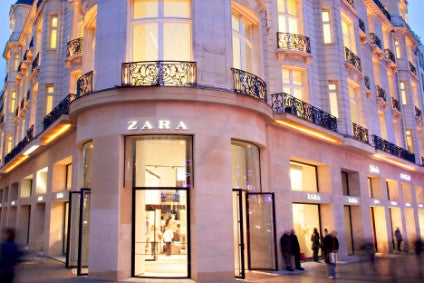 Inditex, which also owns the Pull & Bear, Bershka, Stradivarius, and Massimo Dutti brands, said third-quarter revenue, in local currencies for the period ended 31 October, registered growth of 21% compared to last year.
On a two-year pre-pandemic comparative, sales in local currencies were up 10%.
On a nine-month basis, Inditex sales grew 37% year-on-year to EUR19.33bn, while online sales in local currencies registered year-on-year growth of 28% and 124% against the same period in 2019.
Net profit, meanwhile, rose 273% to EUR2.5bn.
Gross margin reached 59%, evidencing what Inditex called the flexibility of its business model, the digital transformation effort, and the capabilities of all teams.
The group's net cash position also hit a fresh record, at EUR9.57bn as of the October close, enabled by its strong cash generation capacity.
Inditex's executive chairman, Pablo Isla, said: "These results are very satisfactory and demonstrate once again the solidity of our business model, the quality and commitment of our teams, and the potential being realised by our strategy of fully integrating stores and online."
Newly-appointed CEO Óscar García Maceiras, stressed the importance of these results at this time, as they "confirm the significance of extending, deepening and developing that model, one of the company's distinguishing characteristics."
In addition, Inditex said it is doubling down on its digital transformation and streamlining and modernising its store platform.
As of the October close, the group had 6,657 stores, having opened 179 new stores in 39 markets during the nine months period.
All of the new stores are equipped with the latest technology to ensure full and seamless integration of the store and online platforms. To that end, the group continues to layer digital innovations onto its Inditex Open Platform (IOP), paving the way for the rollout of solutions such as the Store Mode service in a growing number of stores.
It said the IOP continues to bring the group "noteworthy differential advantages" in terms of performance, while its experts continue to work on the development of the entire architecture of applications and micro-services.
On sustainability, Inditex recently brought its net zero emissions target forward by a decade to 2040.  
The sustainability commitments made official at the Annual General Meeting held in July include:
More sustainable cotton in 2023, two years ahead of the initial target of 2025.
Renewable energy in own operations only in 2022, up from the previously targeted 80%.
Over half of all garments to carry the group's Join Life sustainability seal in 2022.
And, by way of new target, a commitment to reducing the impact of water across the entire supply chain by 25% by 2025.
Commenting on the numbers, Pippa Stephens, retail analyst at GlobalData, says Inditex's recovery from the pandemic has been "impressive".
"The group has outperformed its key rival H&M, which this morning announced that its sales for the three months to the end of November 2021 only just reached the same level as in 2019, with Inditex's superior trend credentials and younger customer base driving spend. This positive performance puts the business in good stead to withstand the wave of managerial changes coming it's way over the next few months, despite investors' concerns about the appointment of Marta Ortega Pérez as chair of the board and Óscar García Maceiras as CEO initially causing Inditex's share price to fall by around 6% in November 2021, due to their perceived lack of experience.
"Even though sales so far in Q4 to 10 December 2021 have remained 10% above pre-pandemic levels, further waves of the virus across Europe will negatively affect trade over the coming weeks, with many countries introducing new Covid-19 restrictions, including the UK's latest work from home guidance, which has drastically impacted footfall in city centres. Though Inditex saw a particularly good reaction to its autumn/ winter collections, aided by consumers' plans to attend more Christmas celebrations this year after not being able to socialise properly in 2020, many large-scale gatherings are now likely to not go ahead. Therefore, Inditex may now start to witness an influx of returns of partywear, and fail to gain last-minute purchases.
"As consumers have now realised the ease and convenience of shopping via the online channel, Inditex's digital sales for Q3 year-to-date FY2021/22 rose by 124% on a two-year basis, with it expecting online to account for more than 25% of revenue for the financial year. As well as its digital investments, it has developed its physical stores as well and built a strong multichannel proposition. During FY2021/22, Zara has launched Store Mode on its app, with features such as Click & Try, which enables shoppers to book fitting rooms, and Click & Find, which enables shoppers to find a specific item in-store, allowing for a more seamless shopping experience, with Q3 FY2021/22 store sales impressively exceeding pre-pandemic levels."
Inditex's Zara brand recently launched a limited line of black dresses made from carbon emissions in collaboration with biotechnology company LanzaTech.