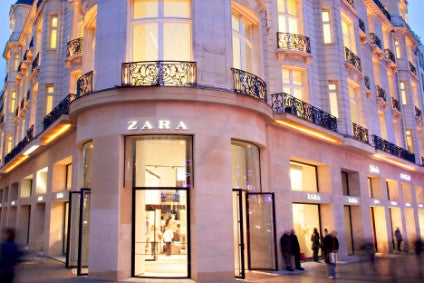 Inditex, the owner of brands including Zara and Bershka, has recorded a EUR287m (US$316m) inventory charge on the back of the coronavirus (Covid-19) outbreak which it says has hit its sales in the first two weeks of March.
Store and online sales in local currencies decreased by 4.9% between 1 February and 16 March 2020. Between 1 and 16 March 2020, store and online sales in local currencies decreased by 24.1%. February sales usually represent around 6% of the group's total annual sales and March sales usually represent around 7% of the annual total.
As of yesterday (17 March), the group had temporarily closed 3,785 of its stores across 39 markets in a bid to control the spread of the virus.
Despite this, Inditex booked a healthy 6% rise in net profit to EUR3.64bn. Factoring out the inventory charge, profit growth would have been 12%.
Sales were up 8% year-on-year to EUR28.29bn, underpinned by growth across all brands and in all of the geographies in which Inditex has a presence.
Spain recorded 4.6% sales growth. The country currently represents 15.7% of total sales, with Europe excluding Spain accounting for 46%, Asia and the rest of the world, 22.5%, and the Americas, 15.8%.
Meanwhile, Inditex reported growth in sales from its online platform of 23% to EUR3.9bn, which is 14% of the total.
Executive chairman, Pablo Isla said: "Inditex is demonstrating through these results the solidity of its business model and its balance sheet, results which demonstrate the hard work and dedication of all of the professionals who are part of this company, from the factory and logistics teams to the store and corporate staff, from our designers to our sales professionals. Their efforts are underpinned by a series of values which, like those I alluded to at the start of this statement, now more than ever, will guide us to a future framed by optimism.
"In this environment, I appeal today for your composure, trust and solidarity. Thanks to the united response we are displaying across the various affected countries and cities, we are confident that together we will overcome this situation. Thanks to the company's strong financial position and principles, we stand ready to respond in any way necessary."
The group has also decided to postpone a decision on the dividend payment of 2019.
Looking ahead, Inditex says while it is too soon to quantify the future impact of the pandemic on its operations in 2020, it is monitoring developments very closely.
"We have the utmost confidence in our business model and its long-term perspective. The current situation, caused by external and temporary factors, does not change our long-term vision for our business model, its fundamentals and its growth potential."