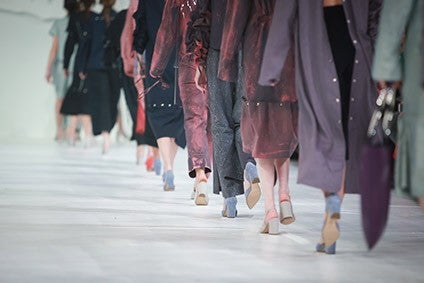 A coalition of apparel industry trade organisations is calling on European Union policymakers to establish a circular fashion system, adding current tools to scale change are "inadequate."
The European Apparel and Textile Confederation (EURATEX), the Federation of the European Sporting Goods Industry (FESI), Global Fashion Agenda (GFA), the International Apparel Federation (IAF) and the Sustainable Apparel Coalition (SAC) have jointly released a manifesto ahead of the Copenhagen Fashion Summit taking place this week. It stresses the need for the industry to rethink its business model and for policymakers to look beyond existing policy tools that are "rooted in a linear economy" to resolve the most significant circularity issues for the fashion and textile industries.
It notes currently 73% of the world's clothing eventually ends up in landfills and the global fashion industry is projected to grow by 81% by 2030, exerting an unprecedented strain on the planet.
"The linear model of 'take, make, dispose' will soon reach its physical limits. Circularity is, therefore, a necessary solution to minimise the use of finite resources, but it demands a unified approach," says the manifesto, which urges urgent collaboration between the fashion and textiles industries and policymakers.
It adds the infrastructure and tools to support a scaled circular system are currently inadequate. "Businesses of all sizes must work with policymakers and regulators to establish a common framework and clear standards throughout the value chain. Efforts thus far have not achieved enough momentum or results."
The manifesto tackles circularity in three ways.
It frames the issue by contending that closing the loop requires unprecedented collaboration to combat fashion waste and to guarantee that business models are fully circular, with no broken links.
It declares that a new approach must be adopted across the industry by utilising technological innovations in solutions such as separating fibres for reuse and upcycling.
It demands more groundbreaking policy measures tailored to the needs of a diverse range of businesses – from SMEs to multinationals – and smart regulations to nudge consumers to rethink the way they use and dispose of their garments.
"This manifesto is extremely significant as it is the first time so many influential organisations in the fashion industry have come together to work with policymakers on a unified approach to circularity," says Eva Kruse, CEO and president, Global Fashion Agenda. "Consumption is only going to grow, and if we do not act now to find a solution to the take-make-dispose model, the strain on our planet will get much worse. We urgently need widespread collaboration between industry and regulators to enact impactful circular solutions, and I hope this manifesto will help to drive change at scale."
Jérome Pero, secretary general, FESI, adds: "Circularity has become a key issue in all aspects of daily life. However, the current schemes in place do not sufficiently support a scaled circular economy system. To drive change, it is essential that all actors work together to make it happen. That's why I believe this manifesto is a perfect, timely call to unite everyone."
Matthijs Crietee, secretary general, IAF, says the manifesto clearly recognises the importance of a truly global approach to circularity and, with a consortium that is both European and global, the necessary connections between the European actions and those emerging in the rest of the world can be made.
"To transform the apparel industry's sustainability performance, brands, retailers and manufacturers must align on assessing impacts with a common framework," adds Baptiste Carrière-Pradal, vice president, SAC. "Through this European collaboration we can support legislation that promotes lasting industry improvements globally."
Click here for the full manifesto.