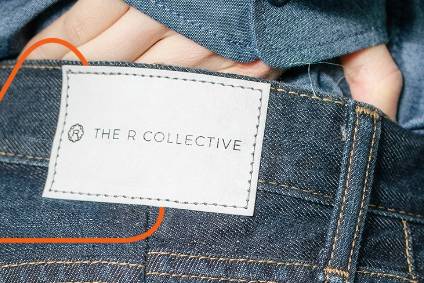 Levi Strauss & Co (LS&Co) has partnered on a traceable, nine-piece upcycled denim collection aimed at reducing apparel's climate impact.
The R Collective's Denim Reimagined collection sees several apparel industry heavyweights collaborate on the project including Crystal International Group, Avery Dennison, EVRYTHNG, Electrolux, and environmental charity Redress.
The collection uses Levi Strauss' aged inventory and leftover samples in a creative design effort to prolong denim's lifespan.
It also uses labelling from Avery Dennison that is made from recycled materials and using zero-waste water-soluble materials. Each of the clothing's care labels is connected to a unique EVRYTHNG Active Digital Identity (ADI) in the cloud to manage data from and about the denim item.
Using a smartphone, consumers simply scan the unique QR code on the garment's care label to learn more about the clothing item and receive one of four different sustainability-themed messages and videos: how the garment was made; how to care for clothes to reduce clothing's climate impact; solutions to keep fashion in use and out of landfills; and the collection's story or its "product journey", which features details of each garment from the sourcing of upcycled materials to the deconstructing of surplus inventory to the reconstructing of the finished product.
"Our mission is to reduce fashion's negative environmental impact. When it comes to denim, consumer care and fabric production are the most significant phases for climate change impact. This brave partnership with global-leading fashion businesses highlights how collaboration can pave the way for sustainable fashion breakthroughs," explains Christina Dean, founder of upcycled fashion brand The R Collective and Redress.
Liz Lipton-McCombie, director of sustainability, at Levi Strauss & Co, adds: "Upcycling excess materials and extending the life of garments is one of the most sustainable things we can do with our clothing, as anyone who has owned a pair of vintage Levi's knows."
The R Collective was least year among the second class of Levi Strauss & Co's Collaboratory fellowship – a programme aimed at accelerating innovation in sustainable apparel.